My first overseas concert! Found out that mayday's just rock it concert falls right after my exams, so I thought why not? The original plan was to go alone but ended up going with my uni friend for the concert only and my mum for the traveling! After discussing with my uni classmate, we decided to go for the 29/5's, the second last day of the 7 lives they're doing. Bought the tickets myself and it felt like an virtual war, I thought I won't be able to get it. Nevertheless I still manage to get the tickets although it seems like it was the last row of the category I bought!
Went to Hung Hom area around 6pm to have an early dinner. We went to the mall opposite the Hong Kong coliseum and had dinner at the food court. Maybe because it was too early, we ended up only eating half of our dinner.
We then made our way to the coliseum, the green block entrance for the goods queue. I had already bought my friend's and mine on tuesday on my first day of HK trip because I was afraid it would be sold out if I buy on that day itself. Unfortunately one of my friend's item was out of stock and one of the light stick I bought was spoiled so we went there to purchase more. The staff didn't allowed me to exchange my spoiled light stick. I felt kinda stupid because he asked when I bought and I honestly told him tuesday. It seems that it maybe exchangeable if I bought it that day. It was stupid of me because there was no receipt or whatsoever to prove which day I bought actually..
Well anyway, the goods sales area was chaotic as they are shouting here and there to attract customers, and not to mention I can't understand a single thing they're shouting. They were selling t-shirts that were only sold in the past and I bought the one with "just rock it" logo! I've always wanted that! Buying 2 pieces comes with a free poster but too bad buying 2 pieces was too expensive so I just went for that.
There was still some time before we can go in so we hung around outside. When we saw people entering, we made our way to our block's gate.
I was seated on the red block section 48. The angle was similar to the one I attended in Singapore in 2013 for nowhere tour except it was the opposite side.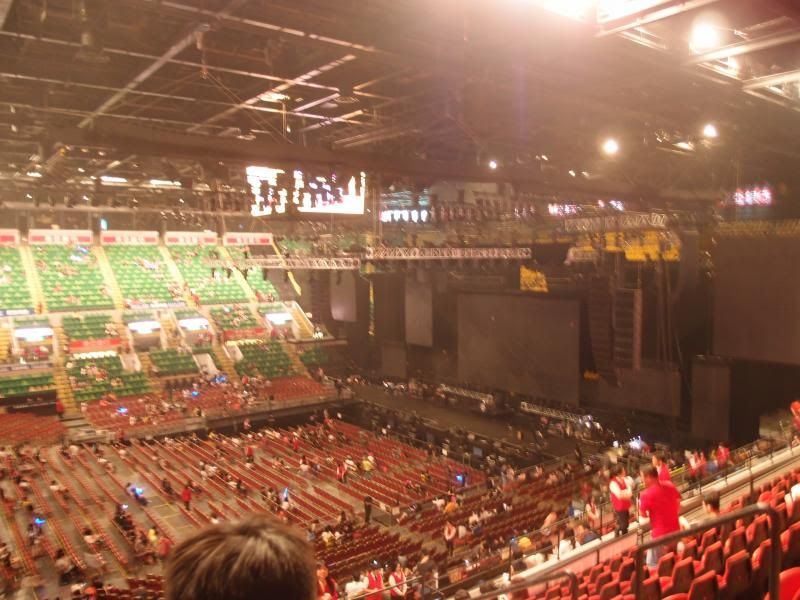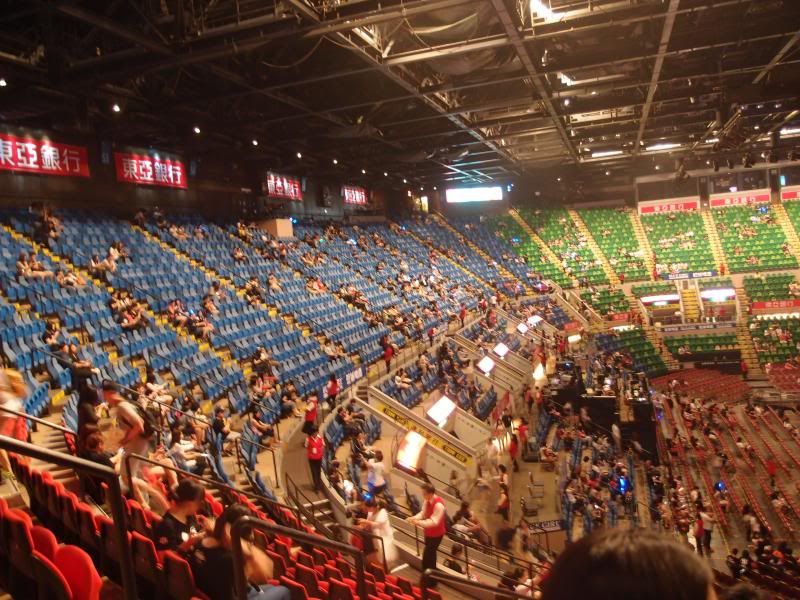 The venue is smaller than I thought. It is definitely smaller than our indoor stadium! I would so love to come back here again for mayday!
The opening guest was 糖兄妹 a band from Hong Kong. Had the impression I heard of their group name before..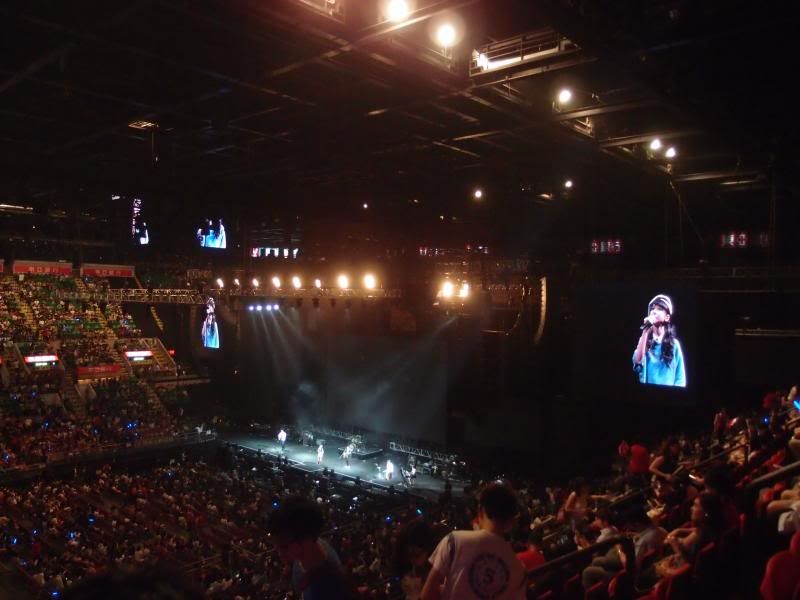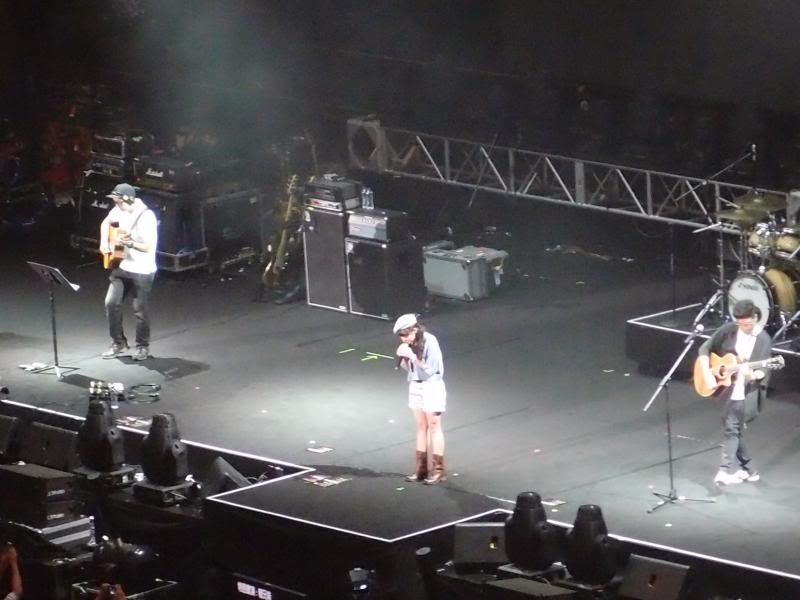 They sang 2 songs and then the concert started!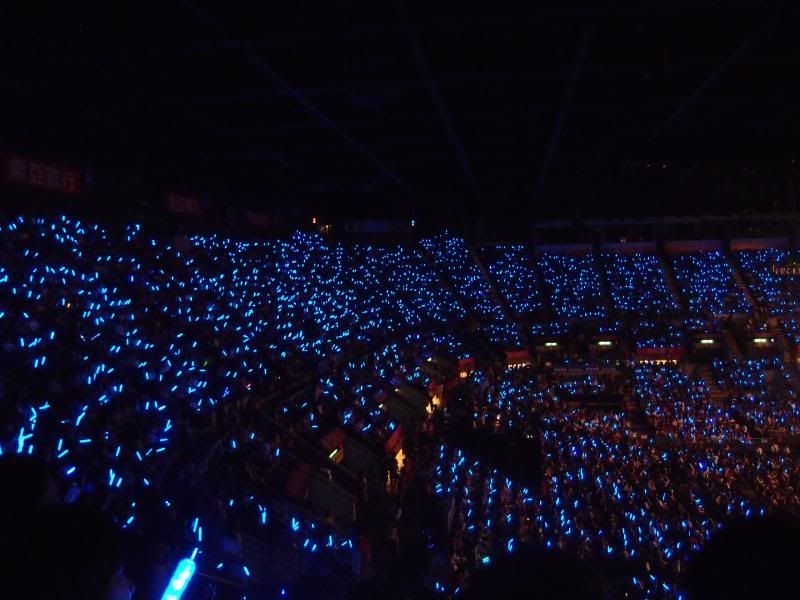 It started off with a footage of all their album covers with them as kids and various songs as the BGM.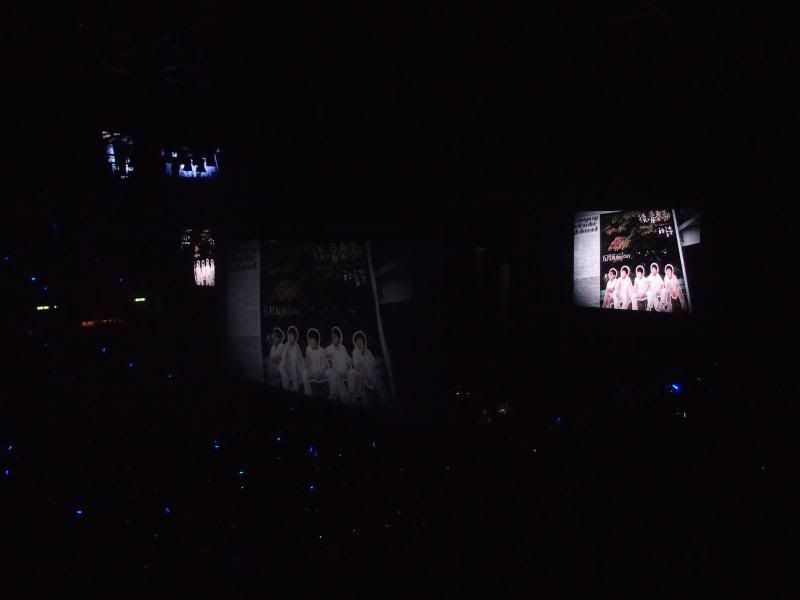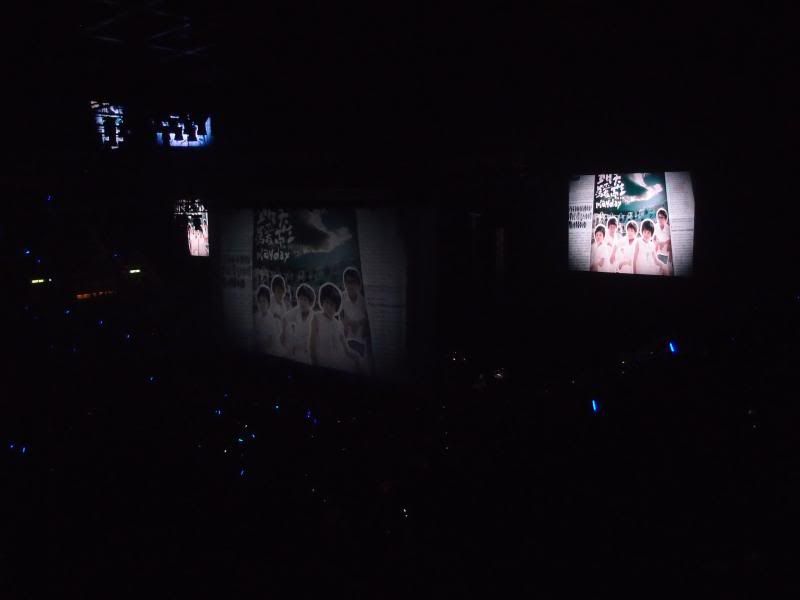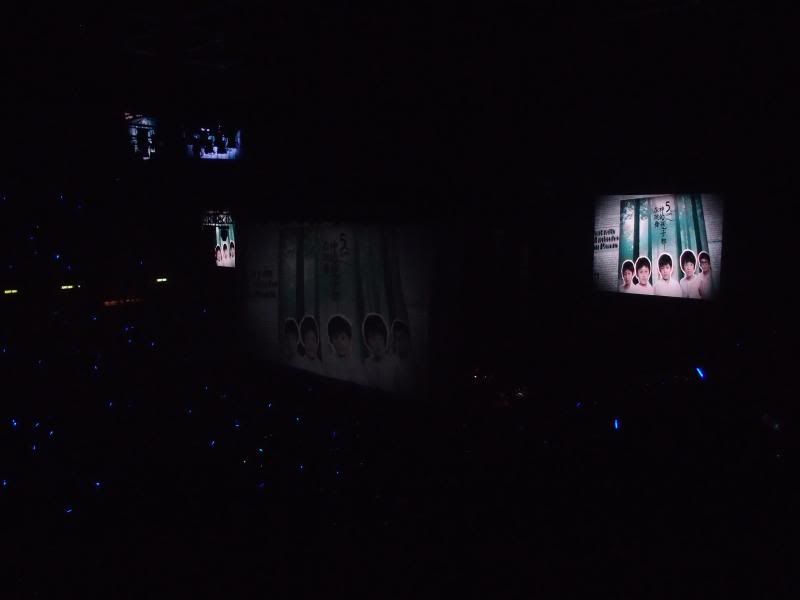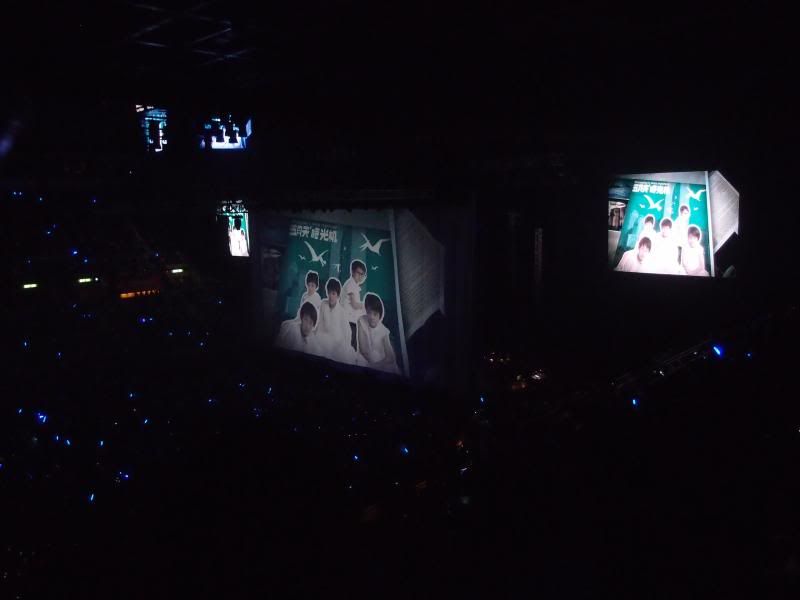 Then the screen curtain rose!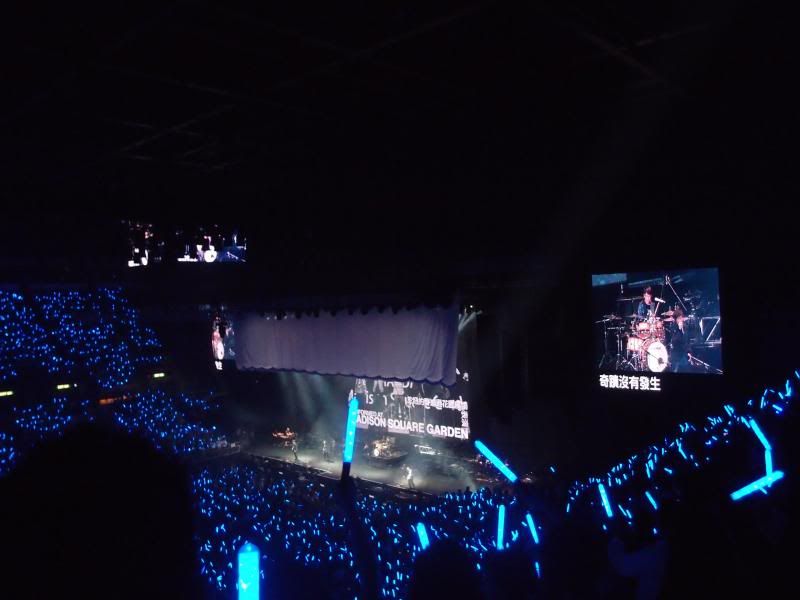 Set list that I grabbed from the internet:
第二人生
你不是真正的快樂
最重要的小事(鋼琴)
孫悟空
賭神
相信
終結孤單
志明與春嬌
Talking
瘋狂世界
三個傻瓜
軋車
Talking
笑忘歌 + talking
突然好想你
九號球 (怪獸)
借問眾神明 (瑪莎冠佑)
Talking
愛情陷阱
生存以上生活以下
Talking
永遠的永遠
浪子心聲
憨人
你是唯一
步步
約翰藍儂
離開地球表面
傷心的人別聽慢歌
人生海海
Encore 1:
晚安地球人 (石頭)
入陣曲
感謝名單
OAOA +flumpool
證明 +flumpool
倔強
Talking
Encore 2:
Do you ever shine
洋蔥
乾杯
The screen footage was all the various mile stones they had for the past 15 years :')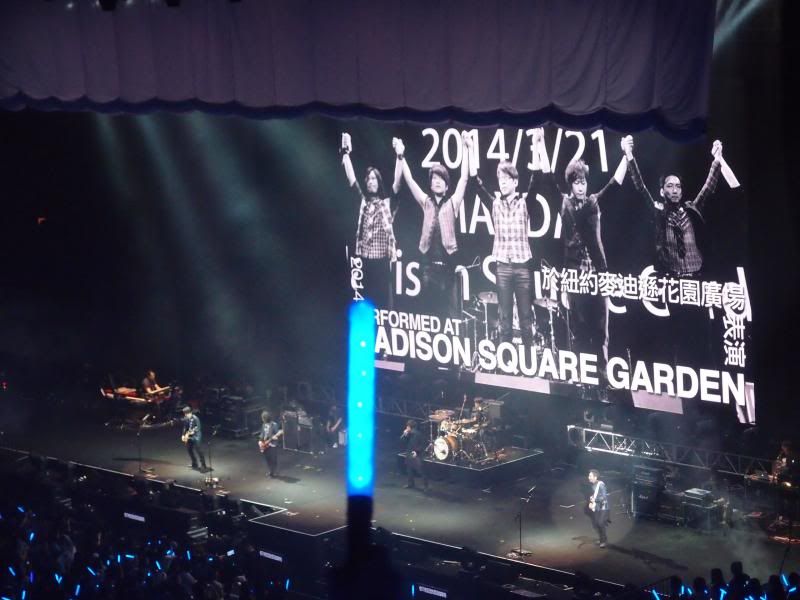 My personal bias is of course the music station milestone!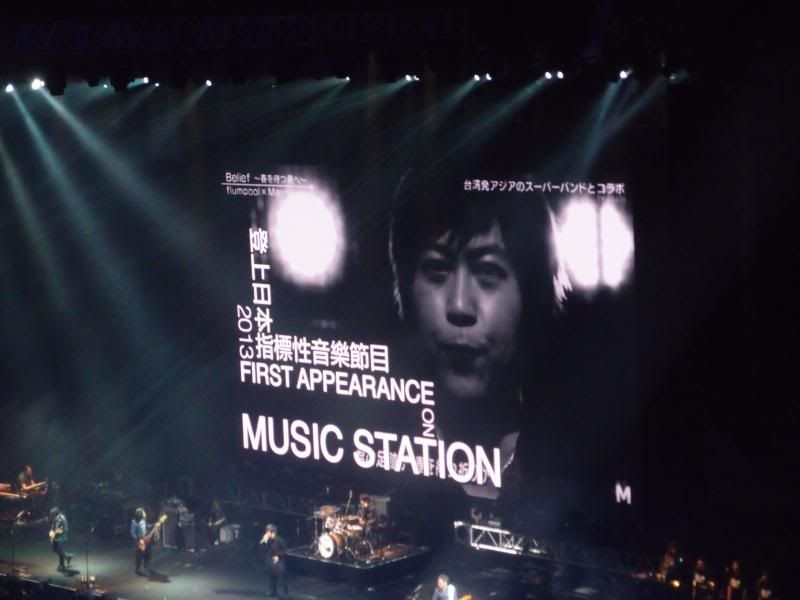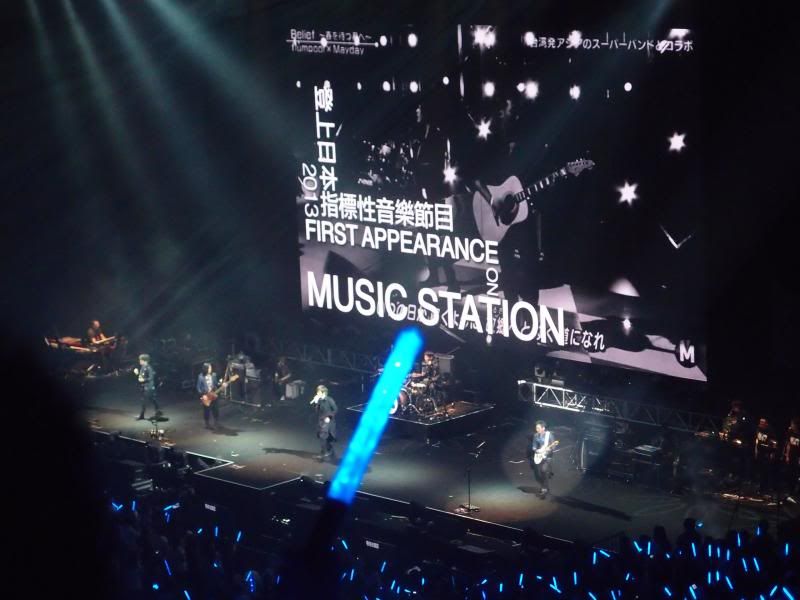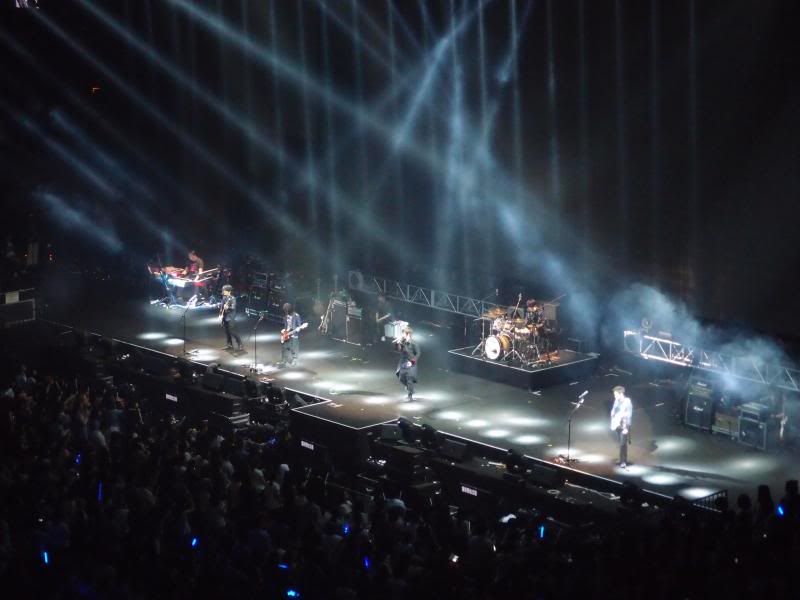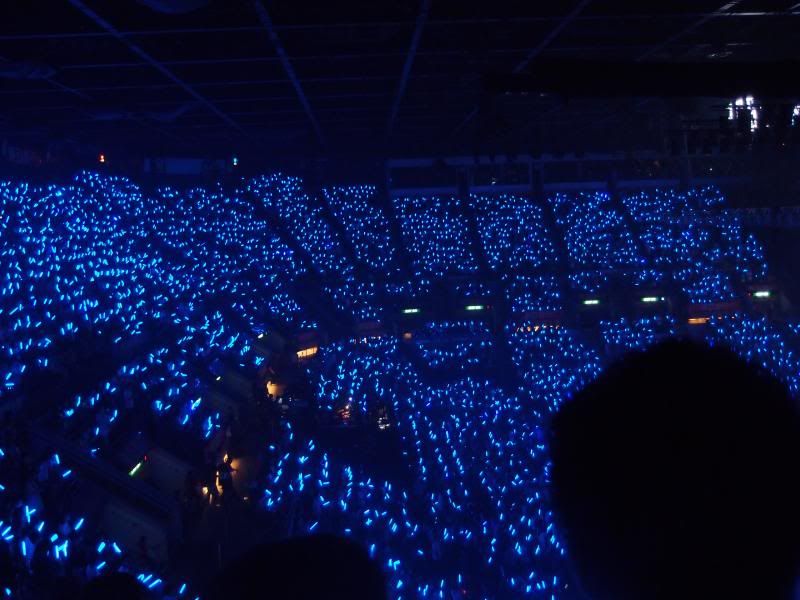 If you notice, the first 8 songs are songs from each album according from the latest to oldest. The milestones is also shown from most recent to the oldest.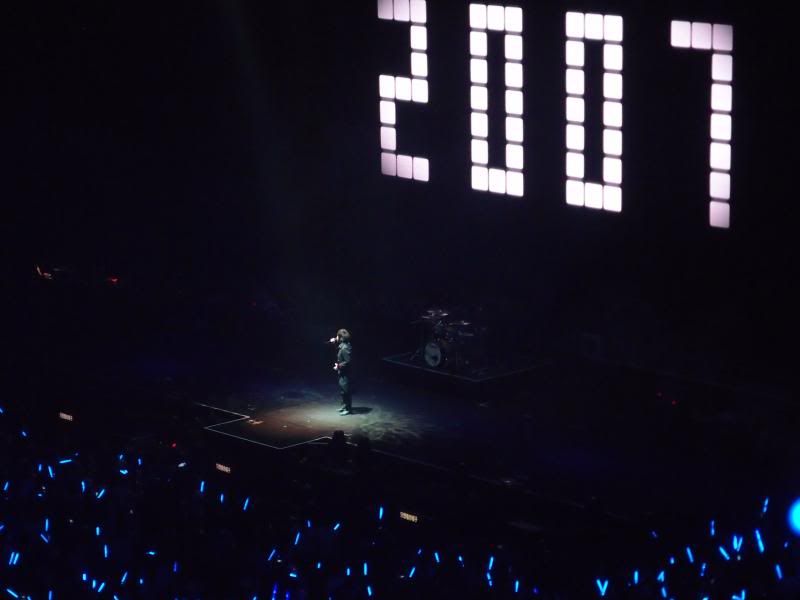 最重要的小事 with a piano only arrangement!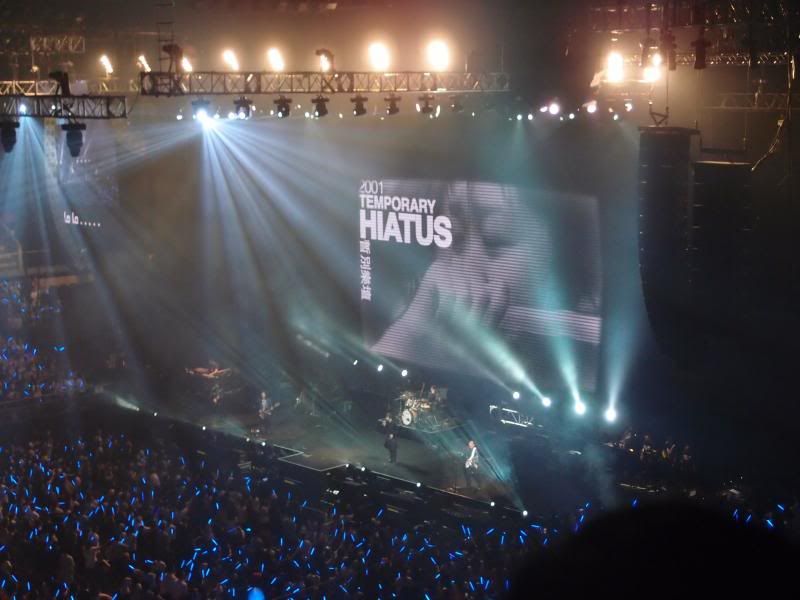 The hiatus back then was also an important milestone..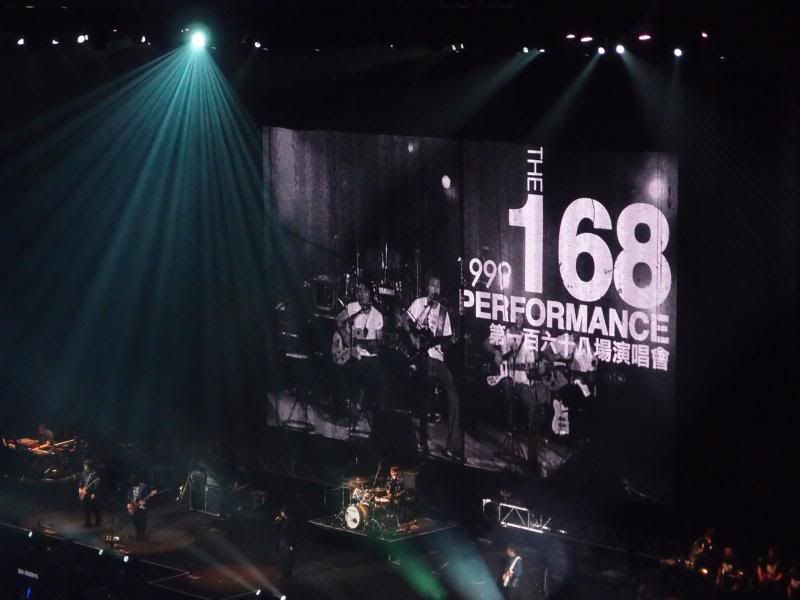 The 168 lives they did back then!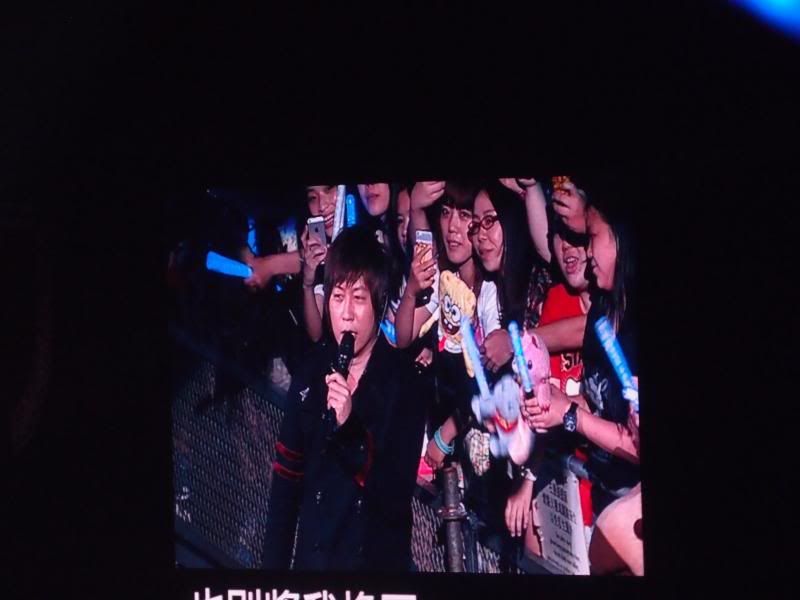 During 終結孤單 some members went to the extended stage or the 握手区 the fans labeled as. One of them was wearing a very cute animal fist design big glove so Ashin was playing scissors paper stone with that girl, he kept winning because he just put out "paper" all the way XD
After 志明與春嬌 Ashin spoke a little saying the songs they sang just now was from latest to oldest and asked us when did we join mayday and whether any songs brought back memories. He then joke that he knows we are all not old and has only known mayday a little more than 2 days and ended it off by saying, 加入五月天 永远不会太迟 It's never too late to join mayday!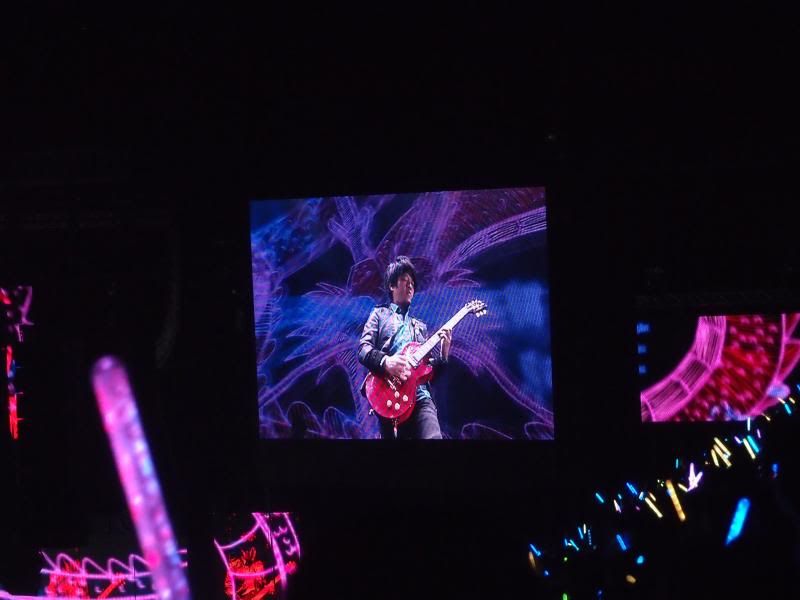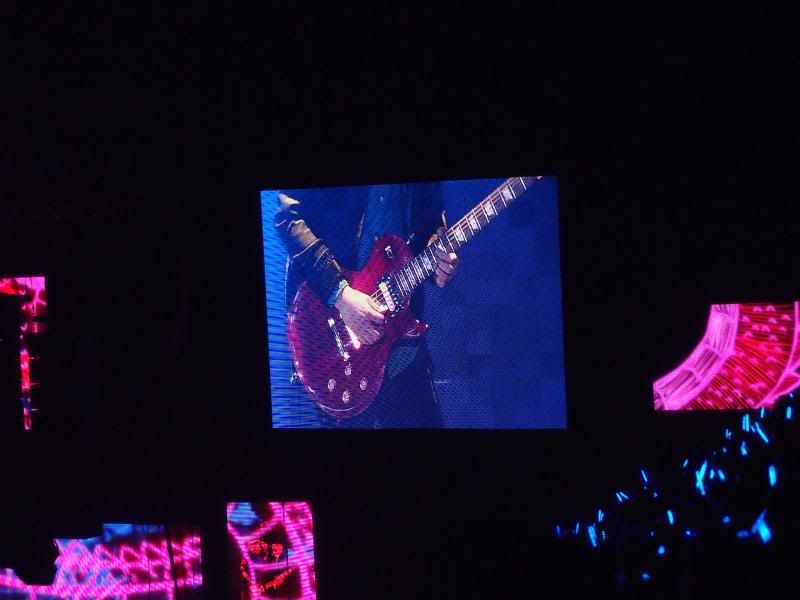 Anyway, Monster had a Gibson press conference just a day before. He had a personalised Gibson guitar and he used it for that day's live. It's really very pretty!!
After 軋車 it was members introduction time and individual members talk.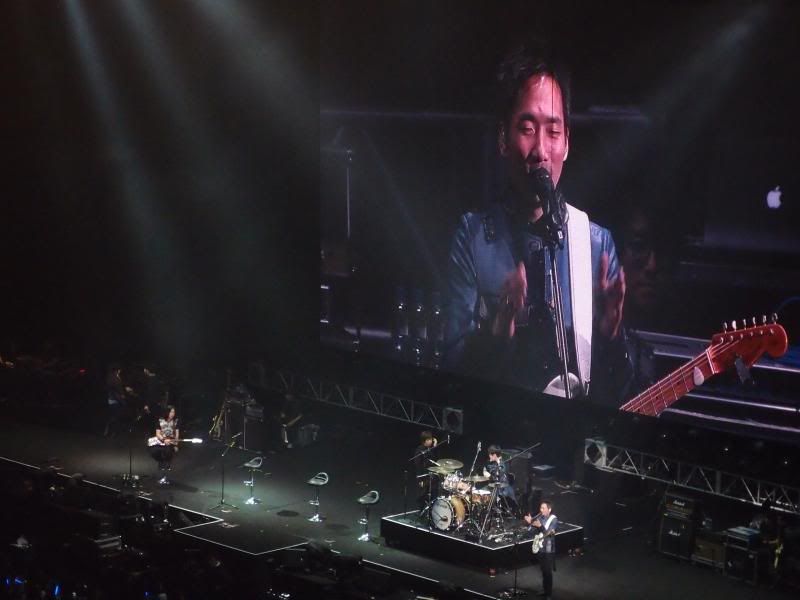 Stone was saying that he spotted a traditional printing shop and is quite surprised by it because it is very rare now due to technologies. He assumed the audience know and said "I think you all know which shop I'm talking about" but he received a quiet dead response. LOL it was awkward but he said he would go look up for it on and post it on his facebook which he really did after the concert.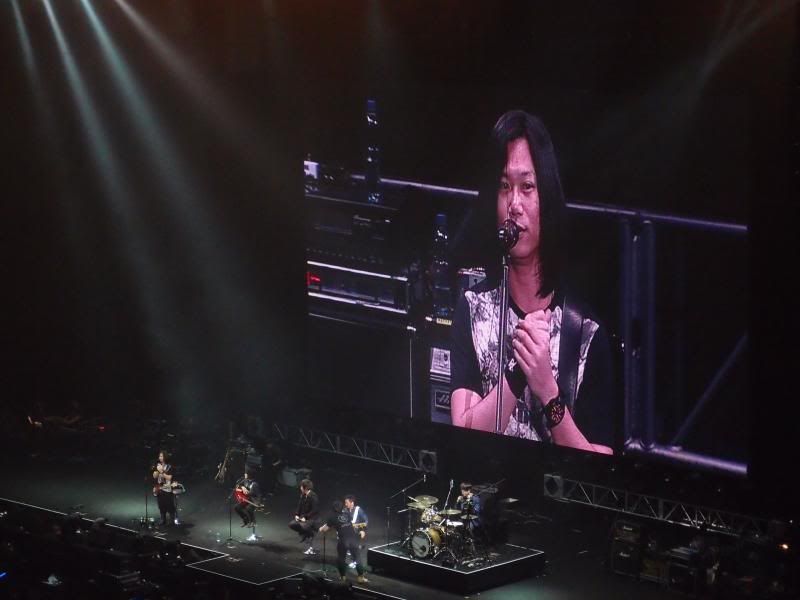 Masa being the sharp tongue said he will not say anything emotional or else he would have to bring out a candle and start a candle lit talk. So he generally gave a thank you message. He also mentioned that Ashin first introduced Stone in a very hyped up tone so in order to give fairness to the other guitarist, he will introduce Monster with the same tone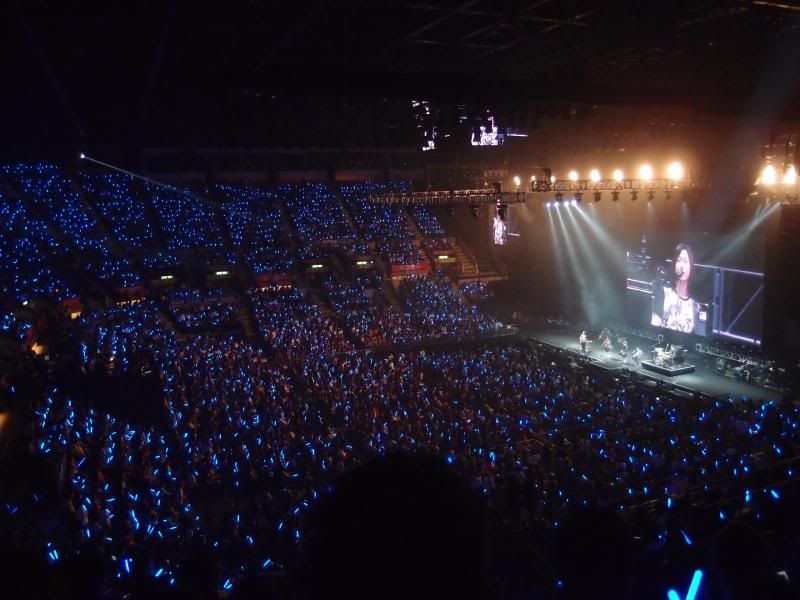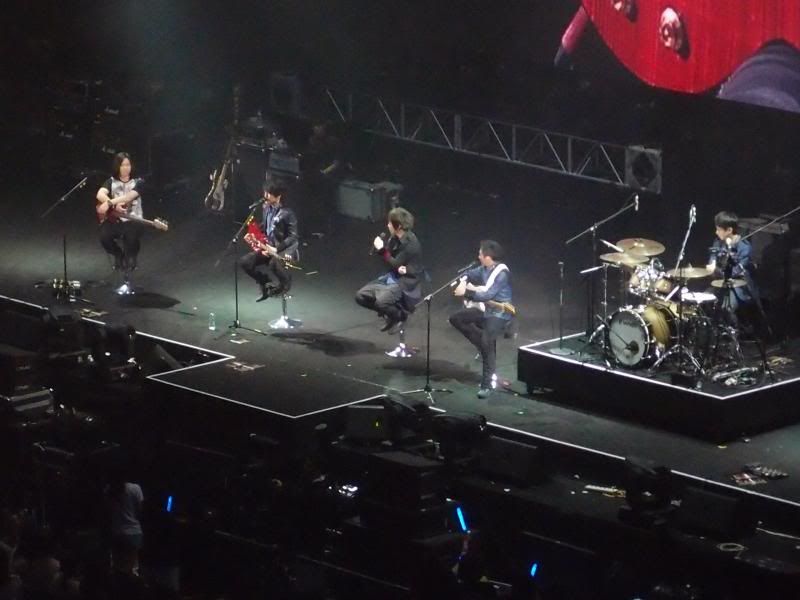 They talked about Monster's new guitar and he kissed it XD He generally said his journey to music thanks to various guitarists that he liked and would share this new personalised guitar with all of us by by playing it to us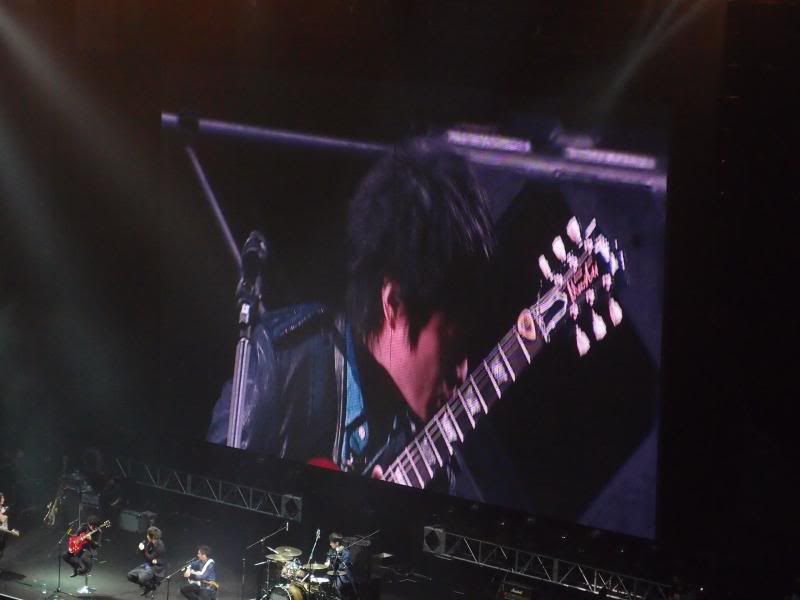 It's Guan You's turn and it seems that he already earned a nickname from the past few days called leng zai which means handsome guy in cantonese. He talked about one of the woman who is important in his life (we thought it was his wife or one of his daughters) it was his mother in law. He said her hearing is not good anymore so he would like us to show how mayday songs sound like.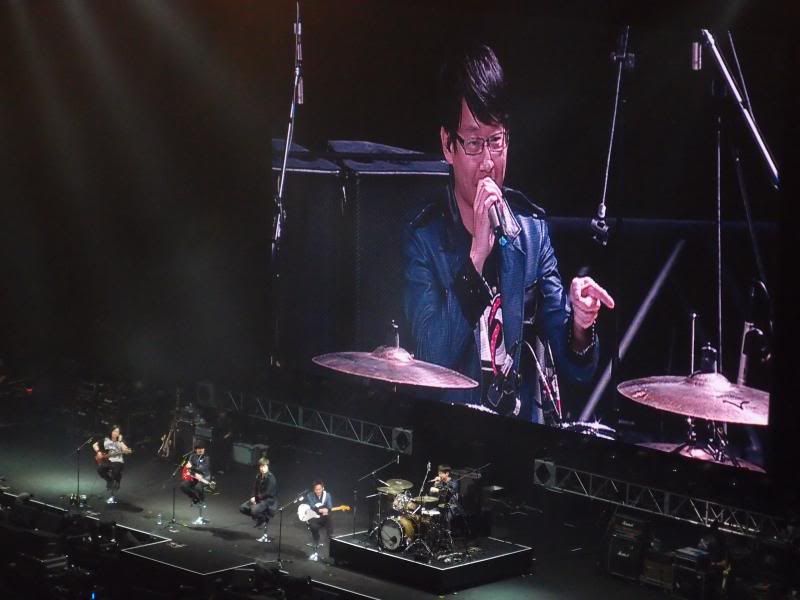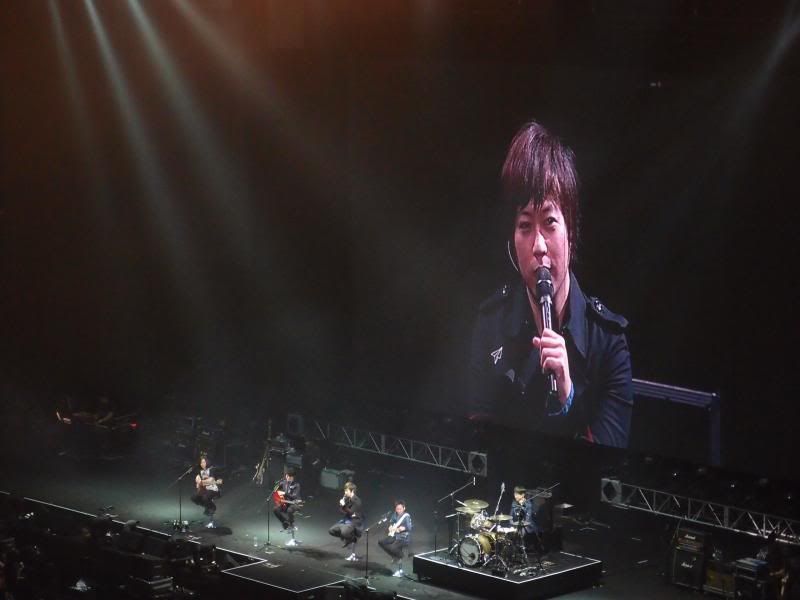 Lastly, Ashin started off saying Stone's day seems to be very long because he went many places. Stone then explained because Hong Kong is too fascinating so Ashin asked him to stay and he will take care of his kids for him and assued him that he will not take care of his wife XD Moving on Ashin went back to what Guan You said and told us mayday fans must also be good in singing or else what his mother in law hear would all be "AHHHHH!!" "AHHHH!" screams in every beginning of mayday song XD and then led us to 笑忘歌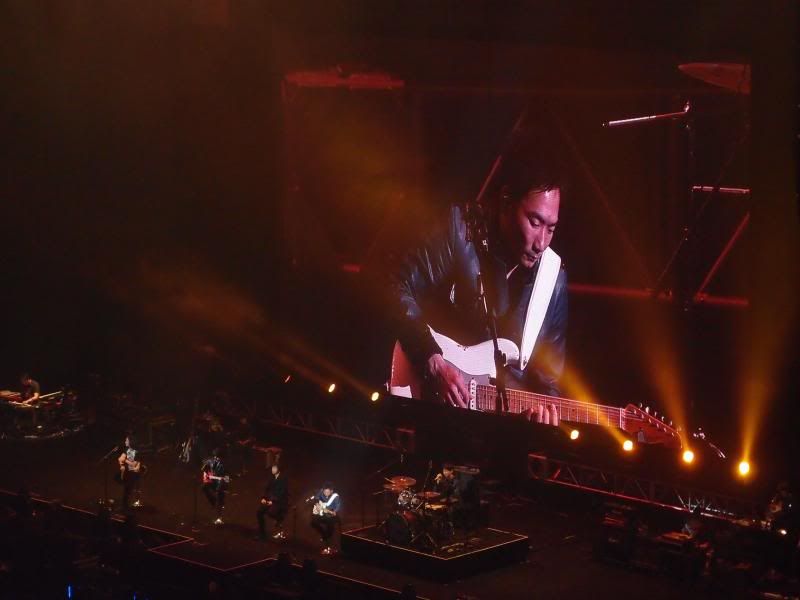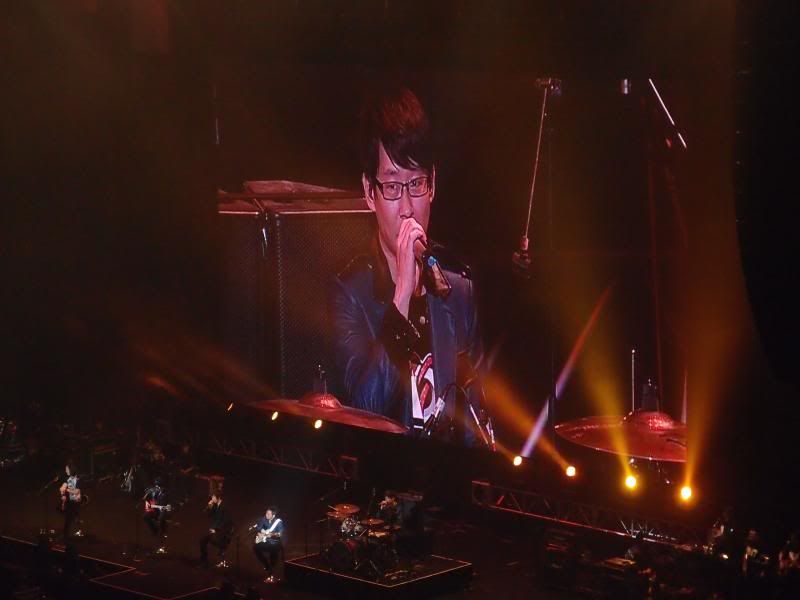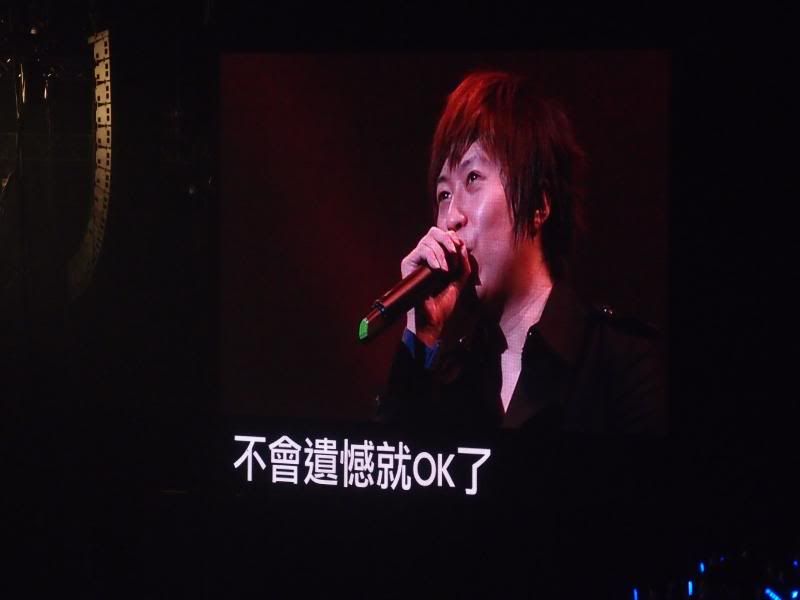 Ashin appointed Guan You for the last line with the high note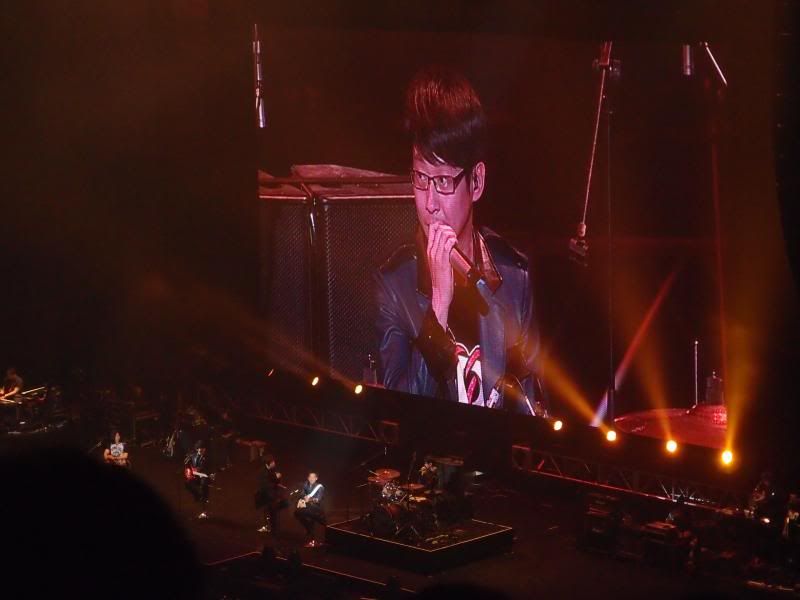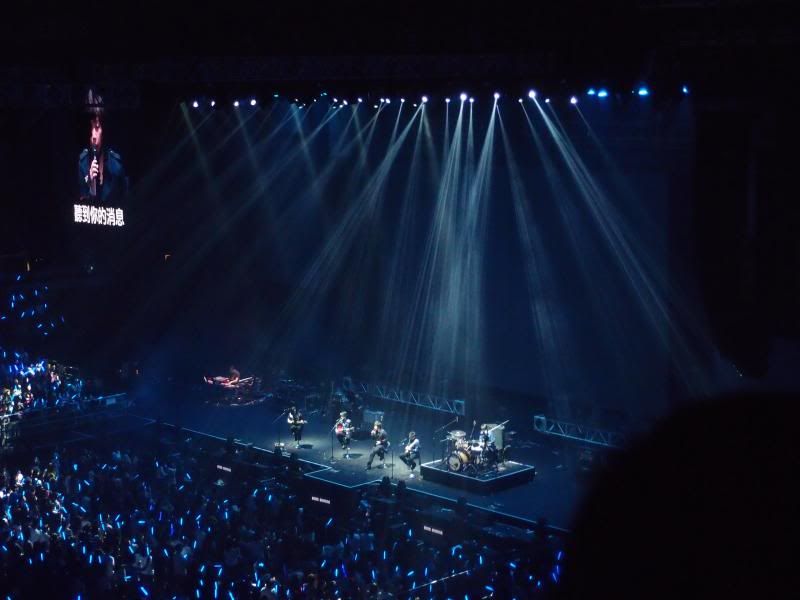 After 突然好想你 was 九號球 with Monster singing it!!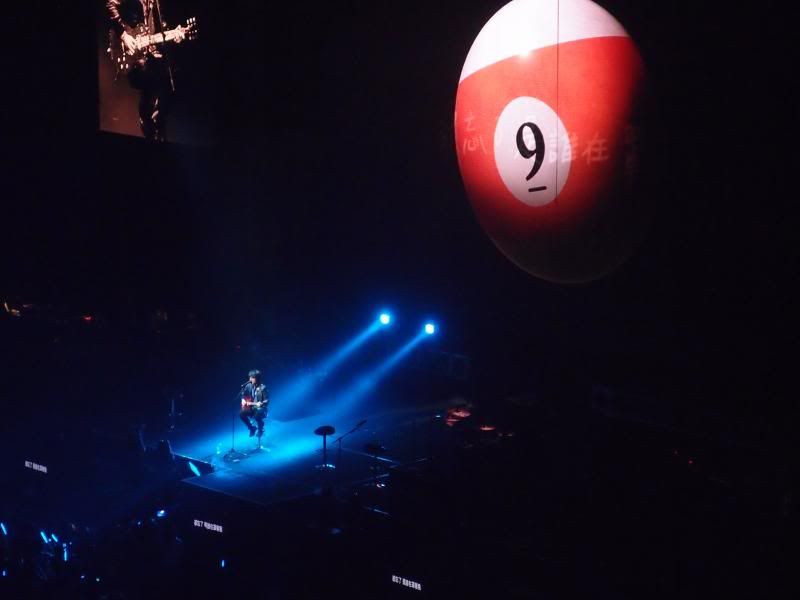 借問眾神明 started off with Guan You & Masa and Stone and Monster joined in later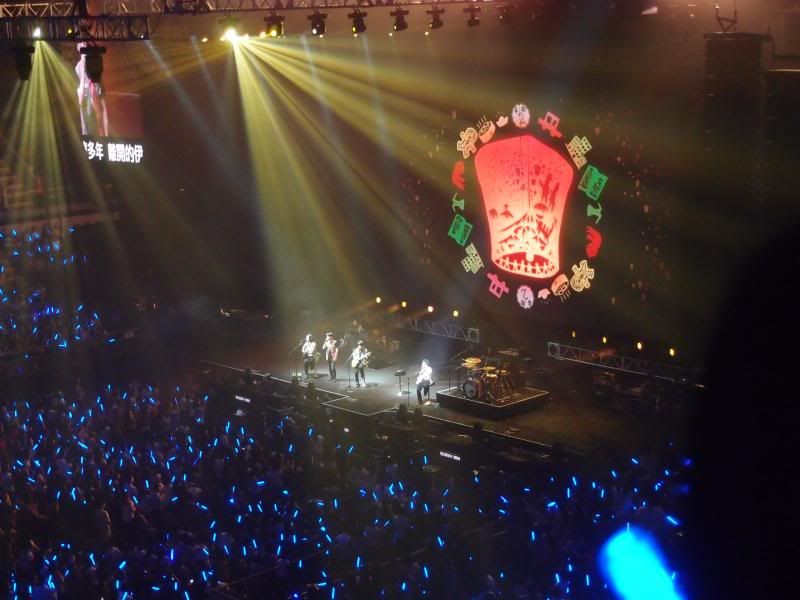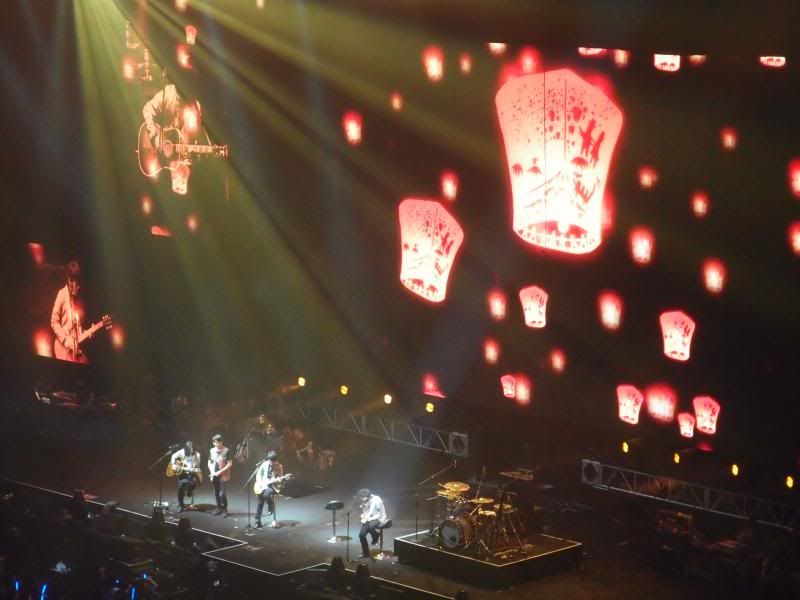 When Ashin came back with a change of costume there was someone somewhere behind me shouted "so handsome!" in cantonese! Hahaha can't help to agree!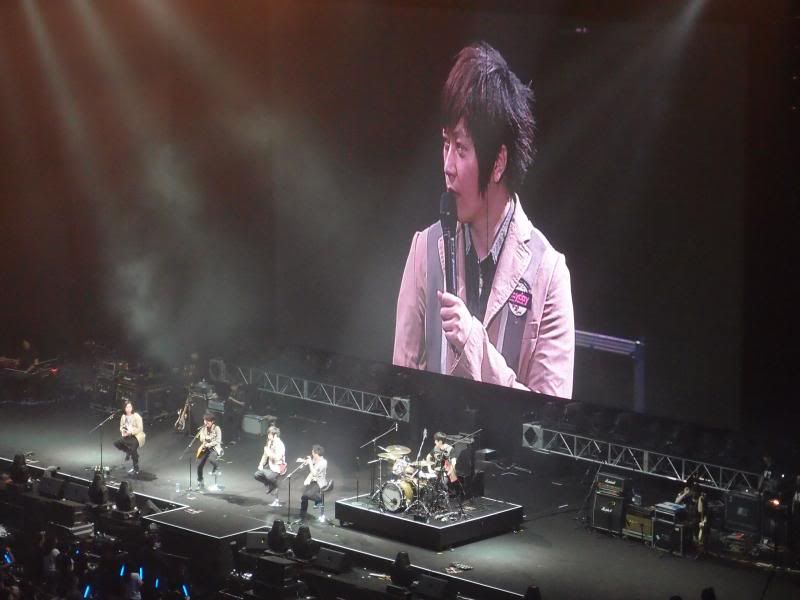 The talking resume again with Ashin mentioning today there should be some fans watching them for the first time and there are some fans who already went a little crazy whom attended the past 5 lives and said their concert is not a drama serial. Though this may sound serious or rude as I typed in english, this is how mayday likes to talk with the fans!
He then continued saying it's a little difficult to say something new after so many consecutive days. So he said why not we gossip? whose gossip would you like to hear? Everyone including myself pointed to Ashin saying we all want to hear his. So he rejected us by saying quickly they should sing the next song... and then to realise Guan You wasn't ready.
Guan You said he was not ready because he wasn't holding anything and on top of his drums there were 3 sticks of things. The dirty joke then started from here!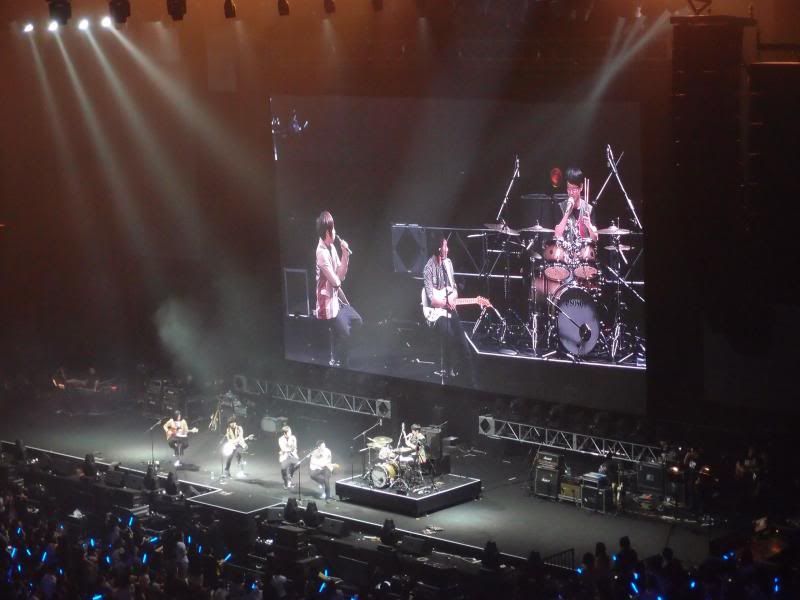 The others found out the mic was in his hands, and there's suppose to be 2 drum sticks so what is that 3rd stick?!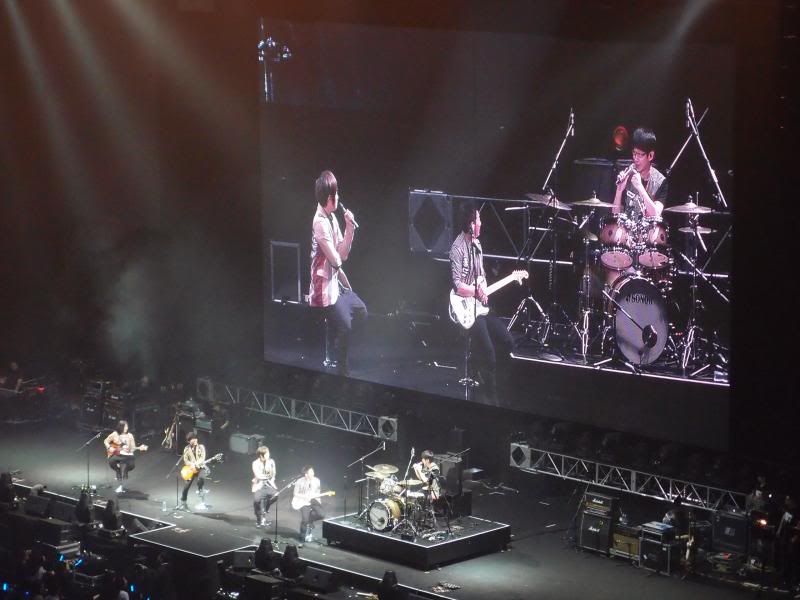 Poor Guan You who couldn't get out of the situation, he blamed us for thinking in another way but Ashin explained us fans, our brains are very active and is able to think in many ways XD He tried his best to think of another word to phrase it better but Ashin and Masa rejected him by telling him he should just keep quiet instead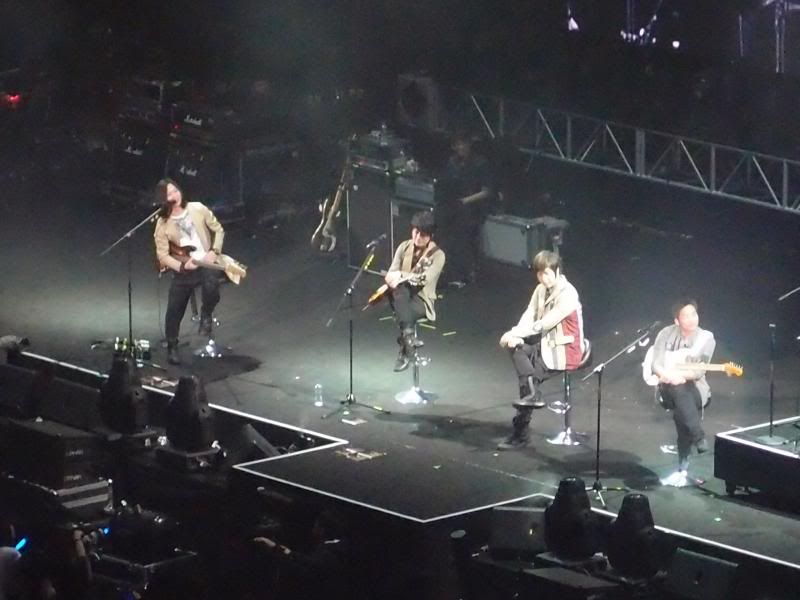 They started bullying him as usual by mimicking him how he is at the back in between songs with his legs crossed. There were many versions! One with towel on his hand, with handphone, with money, with watch.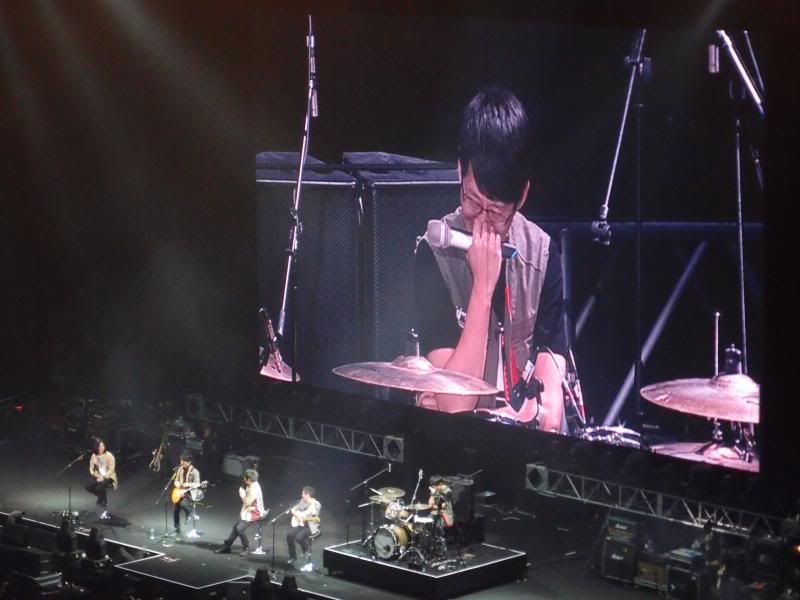 After all the playing around they sang a cantonese song! It feels so surreal to hear them sing cantonese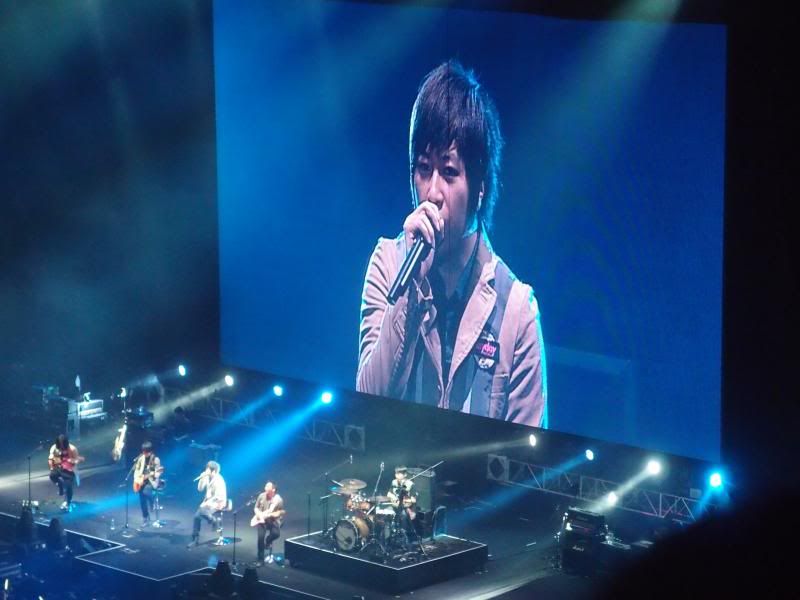 生存以上生活以下 was added with the next train station message in Hong Kong before the brushing teeth and alarm sounds. The screen showed various Hong Kong streets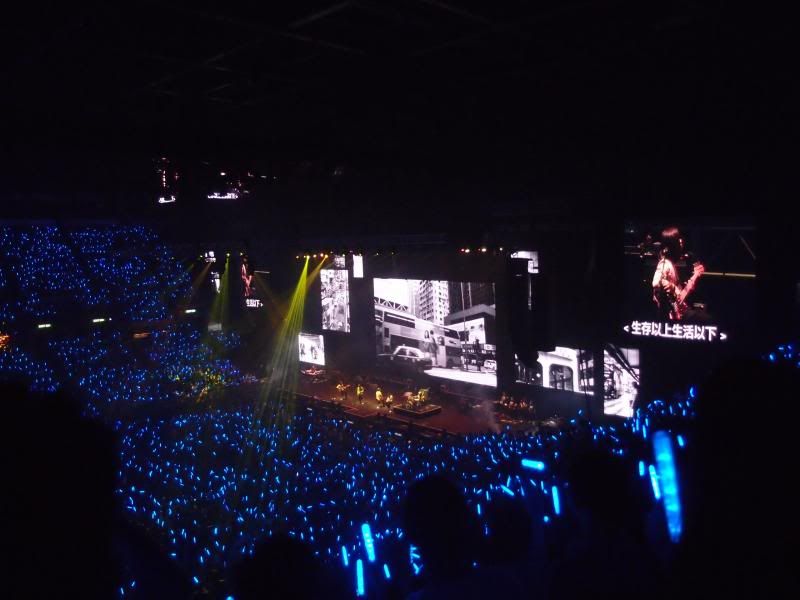 Another 2 cantonese songs and I think it was 浪子心聲 the screen showed many photos of Hong Kong people family photos from various parts of Hong Kong one by one. Later it slowly faded and the words "HOME" was shown then to "HOME KONG" and finally to "HONG KONG"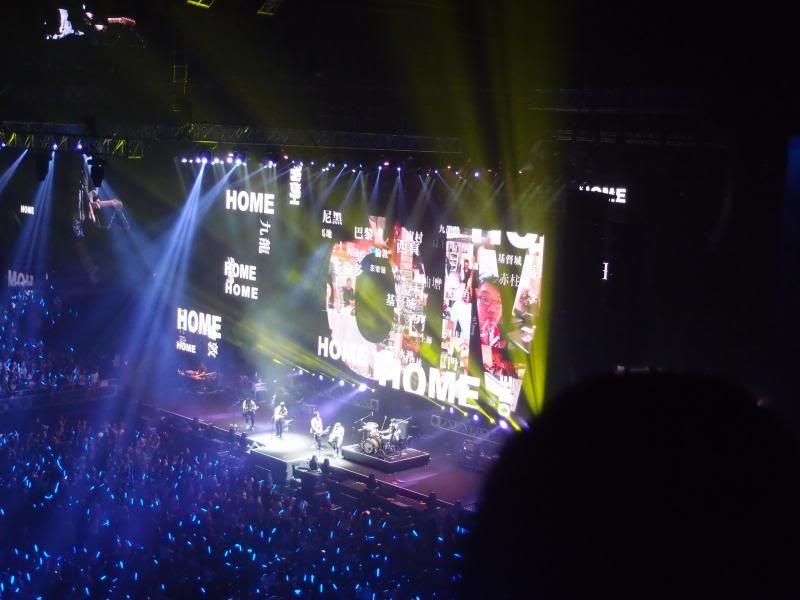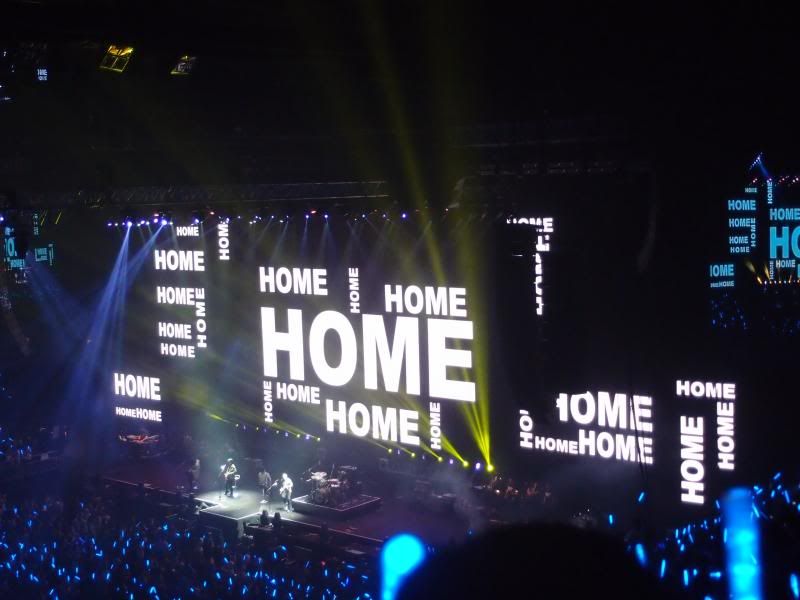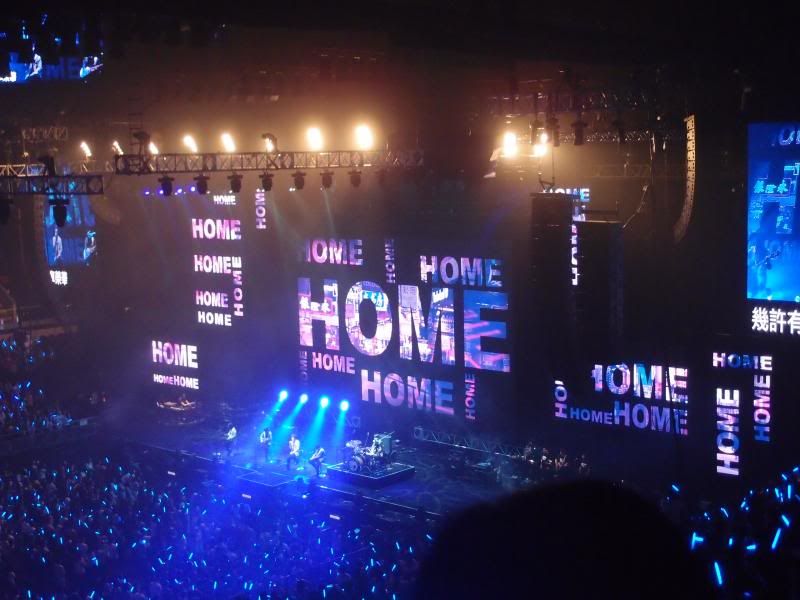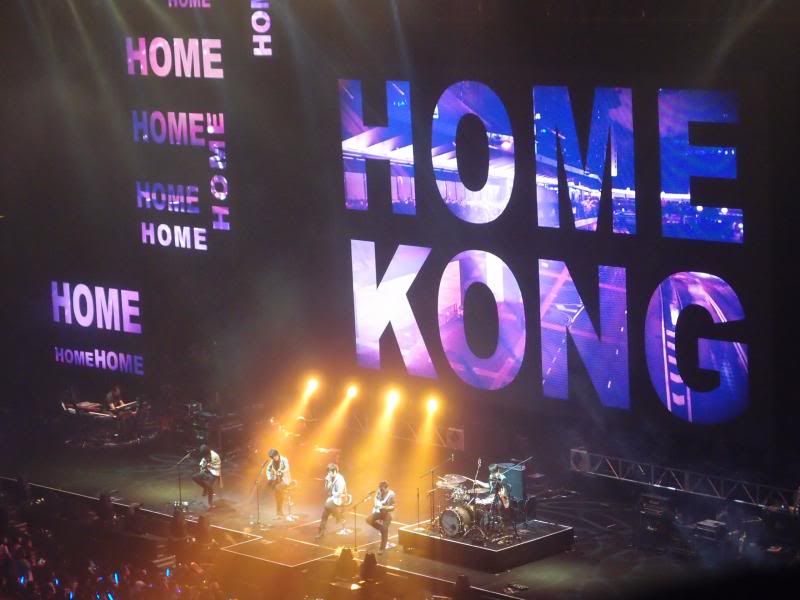 It was really beautiful but also at the same time reminds me of stayreal's designs *cough*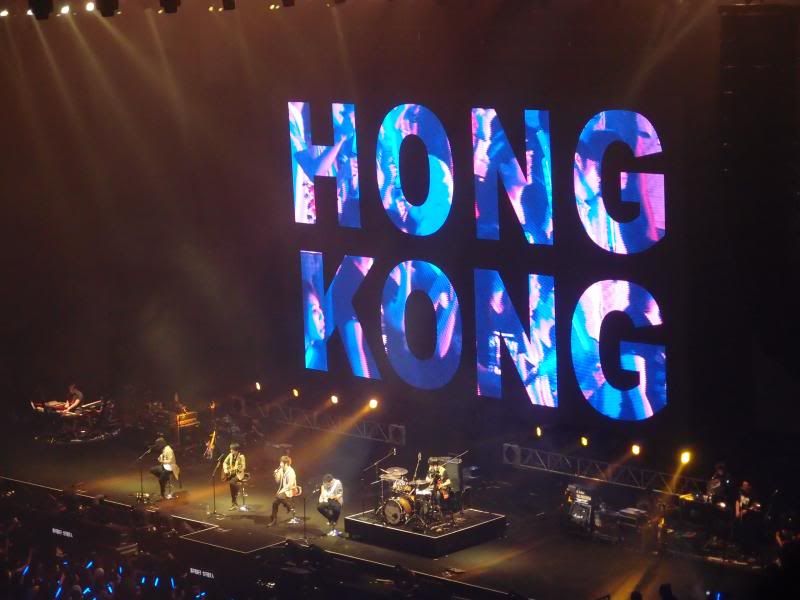 After 2 cantonese songs it was back to old classic 憨人. During the last part of the song there were 2 girls sobbing behind me and it triggered my tears too. My uni friend turned to me saying "whoah there are people crying" and to her surprise I am also crying. 憨人 is always tear jerking when all of us sang together for the last part and every time the last part was used as the BGM for touching message that Ashin would say.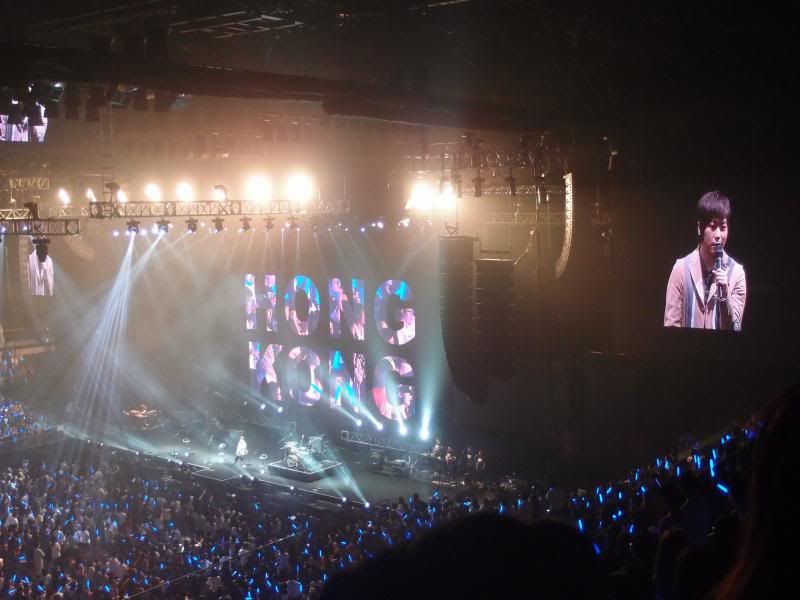 It is already the 9th year that mayday has fulfilled the may promise with Hong Kong. He mentioned there are a lot of hokkien songs this time and was worried that most of the audience can't understand. He felt guilty that Hong Kong people can sing hokkien songs but after so many years mayday themselves only can say standard greetings. Therefore they decided in this just rock it concert Ashin learn a few cantonese songs. He also know there are many fans who came from different parts of the world (I screamed when he said Singapore) and thank Hong Kong for this wonderful location and the breath taking night views, we all sang a few more lines and ended 憨人.
The beginning instrumental part of 你是唯一 started playing and it was time for the elephant to make its' appearance!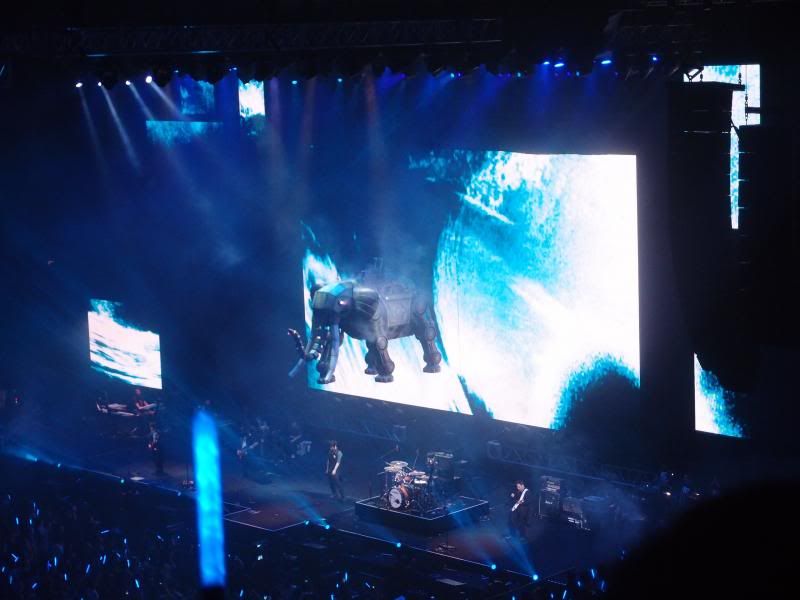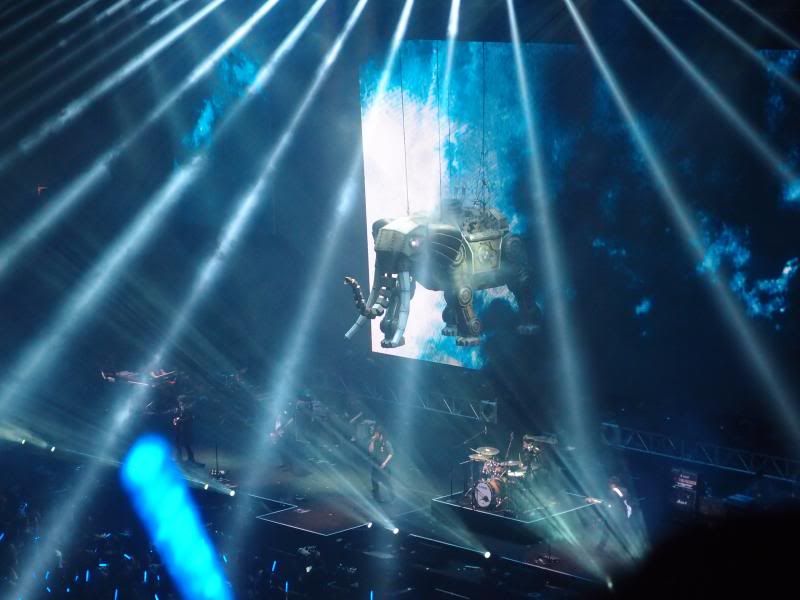 It was hung mid air for 你是唯一 and then lowered down to the stage during 步步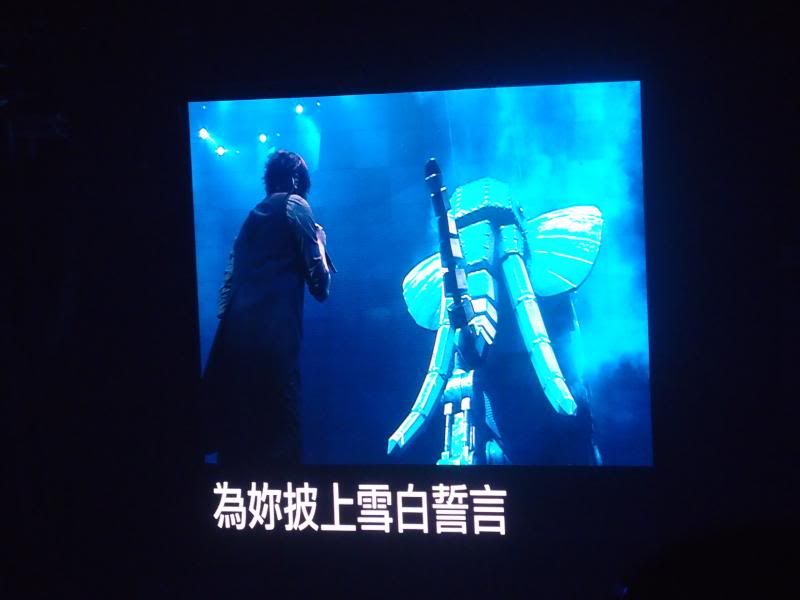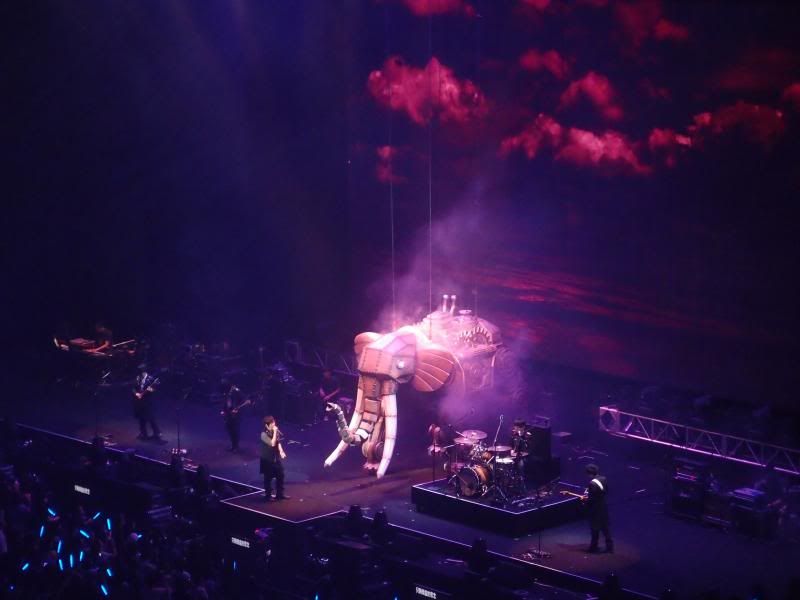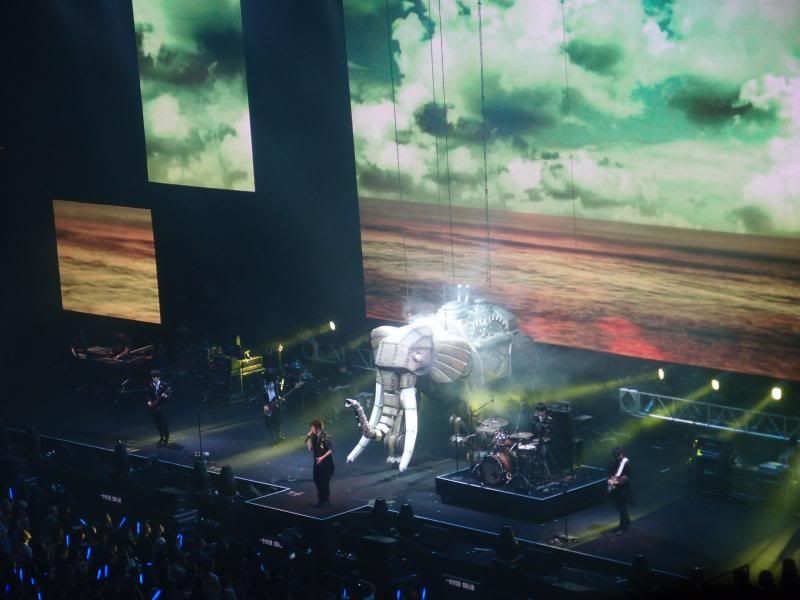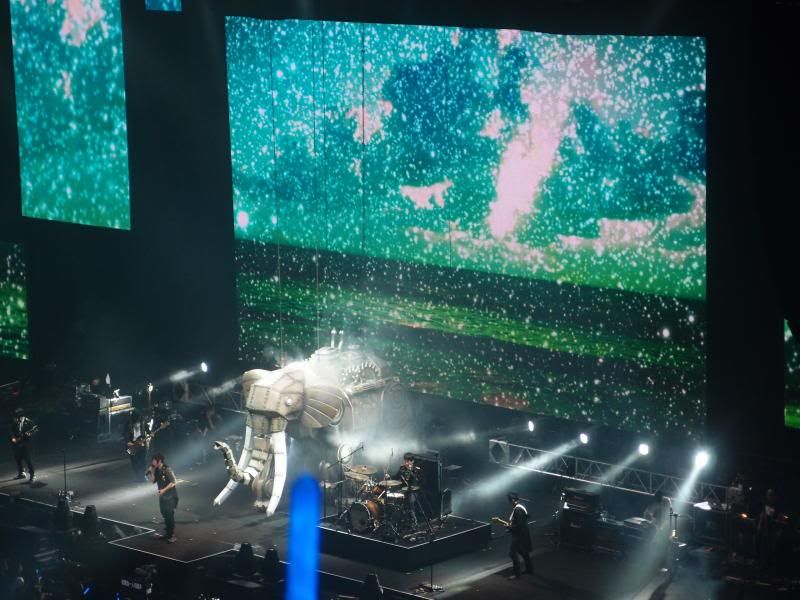 離開地球表面 had a new arrangement and I had no idea what was the song until the title appeared on the screen! Something fresh!
During 人生海海 it slowly made it's way back and marked the end of the concert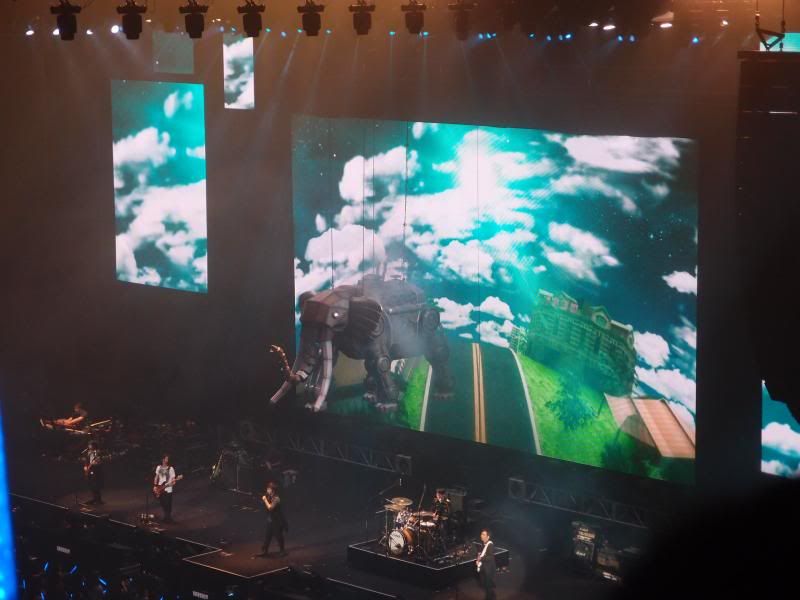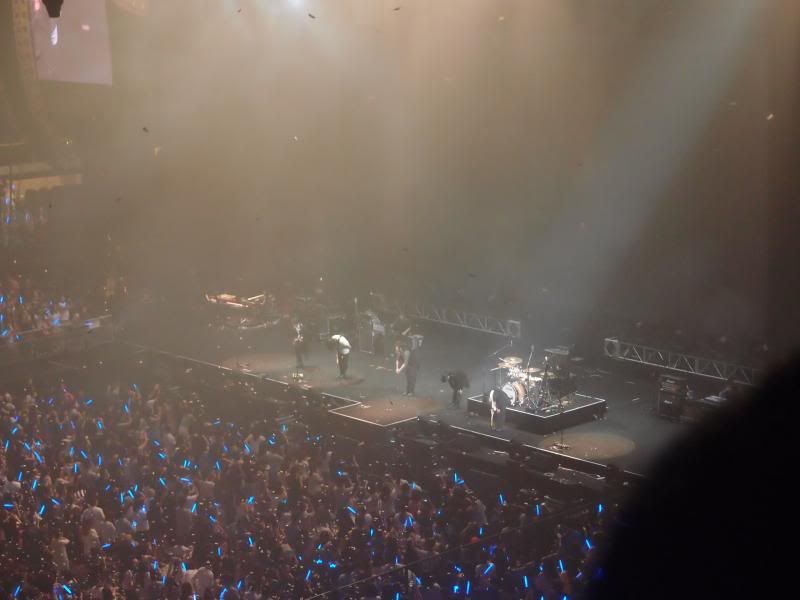 The encore call was a few rounds of kallang wave! It was so fun. After a few rounds everybody shouted 五月天 in unison and Stone came back on stage with 晚安地球人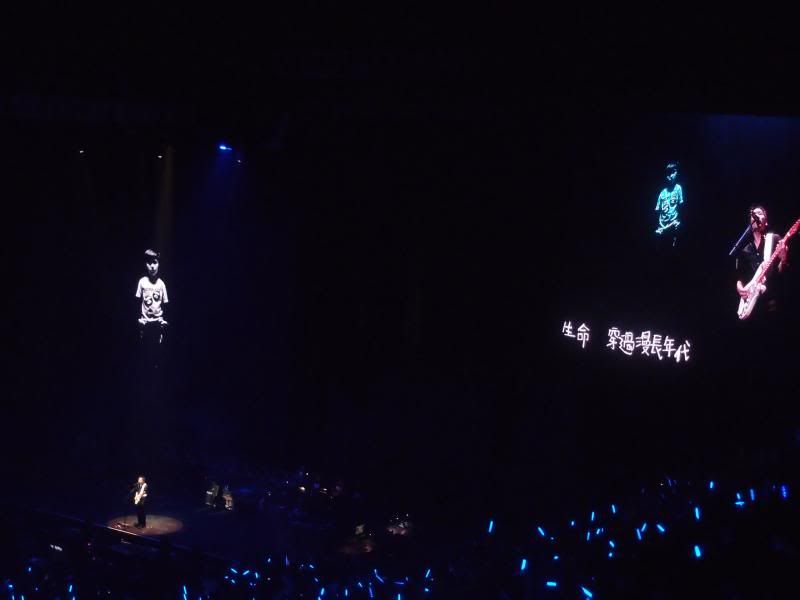 The whole group then came back again for 入陣曲!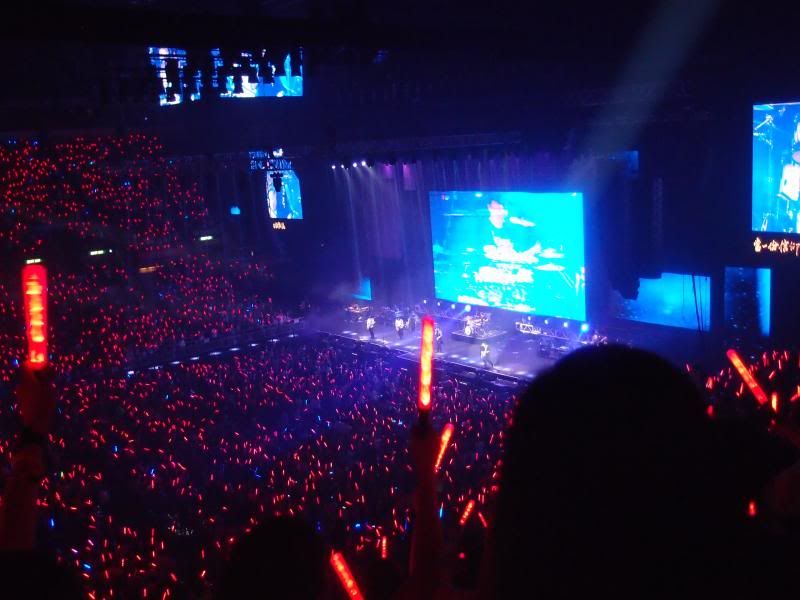 After 入陣曲 it was time to thank the sponsors and partners whom supported this concert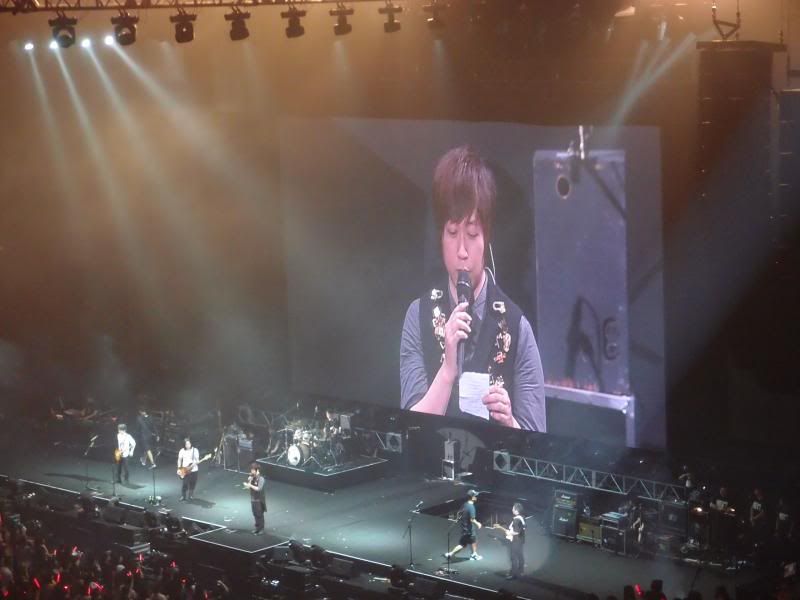 Ashin then added for the past year Mayday has been achieving things that they didn't expect. He mentioned they went on UK's BBC and went to a lot of European countries. The next thing he mentioned was music station! (You can't believe how loud I cheered!) Ashin said it was thanks to their senior and they have entered a-sketch recording company and they had sang a song togehter with them..
Yup, you should know which band it is..
Ashin then welcomed them, flumpool.
I. FREAKED. OUT.
This wasn't what I expected! IT WAS A HUGE HUGE HUGE!! SURPRISE!! Firstly, I mistook that they had a live to attend this weekend for their tour so I thought it was impossible for them to come! I honestly thought Ashin was pulling my leg when he introduced them and a thought of "fake flumpool people" flashed through my mind for that second.
But no, it wasn't a dream.
In some past livejournal entry I made, I mentioned I was really grateful that mayday and flumpool met since they are my two favourite bands. Ever since both of them joined each other respective companies they have been on stage together for a couple of times. It was my dream to see the both of them on the same stage performing together. But never did I know it will happen in Hong kong, in mayday's just rock it concert. And!! Not to mention! flumpool only started making appearance from the second last show which is the ONLY SHOW I ATTENDED OUT OF THE 7! i DON'T KNOW WHAT TO SAY EXCEPT FOR BEING LUCKY ABOUT IT!!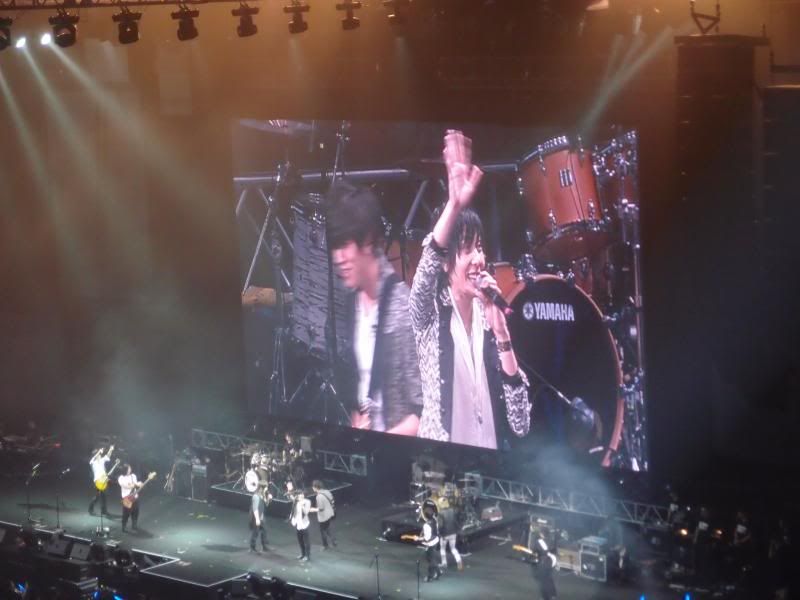 It was not a dream.. flupool whom I expected to see in Aug for their Singapore and Japan lives are here in Hong Kong, in May!
So they sang OAOA and Zheng Ming together! I was actually quite in a blank state...
The MC with flumpool & mayday:
Ashin: We went on UK s BBC and then also went to a lot of places in Europe this year. There is also one that is quite special, that is we went on Japan s music station. We have to thank our senior for this. We also entered a-sketch record company and collaborated with them for a song. Let s welcome flumpool!!!
(I m not Cantonese so some Cantonese words below are roughly translated)
Ryuta: [Cantonese] Hello everyone. I am Ryuta. Please give me guidance. [Mandarin] I m, I m very nervous
Ashin: Hong Kong daisuki?
Ryuta: We love Hong Kong a lot! Thank you, thank you everyone. Can I introduce my band mates?
Ashin: Yes do it now or else the audience tomorrow will be different
Ryuta: ??? (Think he couldn t figure out what Ashin was saying)
Ashin: Ima
Ryuta: Ima? Next is Yi Sheng (Kazuki in mandarin)
Kazuki: Jackie Chan. [Cantonese] I am Kazuki. I am Jackie Chan! Thank you!
Ryuta: Next is Yuan Qi (Genki in mandarin)
Genki: (quite a number of people were shouting genki!) [Cantonese] I am Genki. Please give me guidance
Ryuta: Next is Cheng Si (Seiji in mandarin)
Seiji: [Cantonese] I am Seiji. Please give me guidance, thank you
Ryuta: Thank you
Ashin: Utaimashou Let s sing together
Ashin: Last sentence.. (Ashin then taught Ryuta another line of Cantonese but I couldn t understand. I guess is something along the line We are flumpool )
---OAOA---
Ryuta: Thank you! I feel very good/comfortable!
Ashin: Ryuta, we don t say this kind of words at this timing. You said you were&
Ryuta: Me, good/comfortable. Understand? I feel good/comfortable
Ashin: Our fans made Mayday feel very good/comfortable
Ryuta: Ah, really? I'm envious
Ashin: Envious? It s okay, we will lend Mayday s fans to you all for a while. Need to return it to us later
Ryuta: From long ago we like Hong Kong. Because in Japan there are many television.. television.. ah many movies? We watched, in Japan. So I wanted to come Hong Kong. But, but now& I used to like Hong Kong but now I love Hong Kong. [Cantonese] Thank you thank you. [Mandarin] Thank you everyone, thank you Mayday
Ashin: Since you like Hong Kong so much I don t like you anymore. He s very scary!
Ryuta: Why?
Ashin: He learnt mandarin not up to a year and can speak so much now. Other than speaking it, you still snatch our fans away. I don t like, I don t like
Ryuta: But I am Mayday s fan. Can understand?
Ashin: Let s sing a song together again. Let s continue to make them feel good/comfortable
Ryuta: okay!
--Zheng Ming--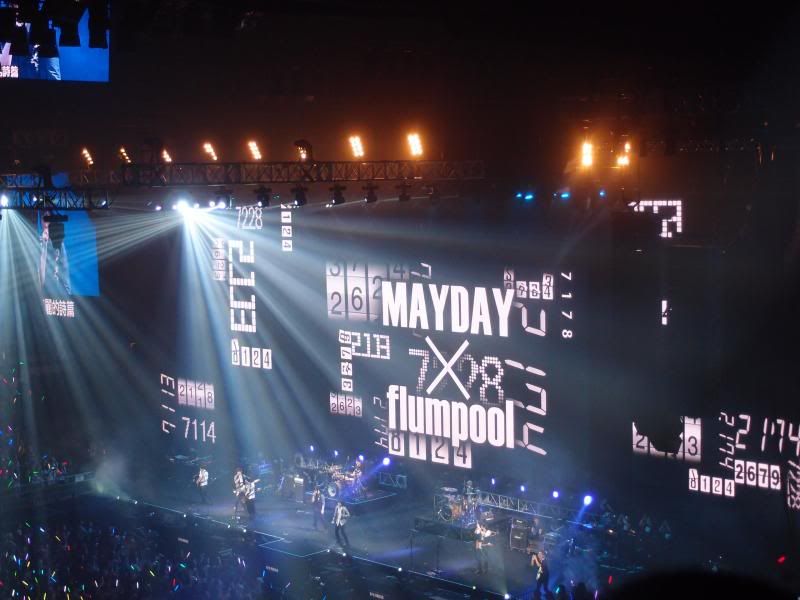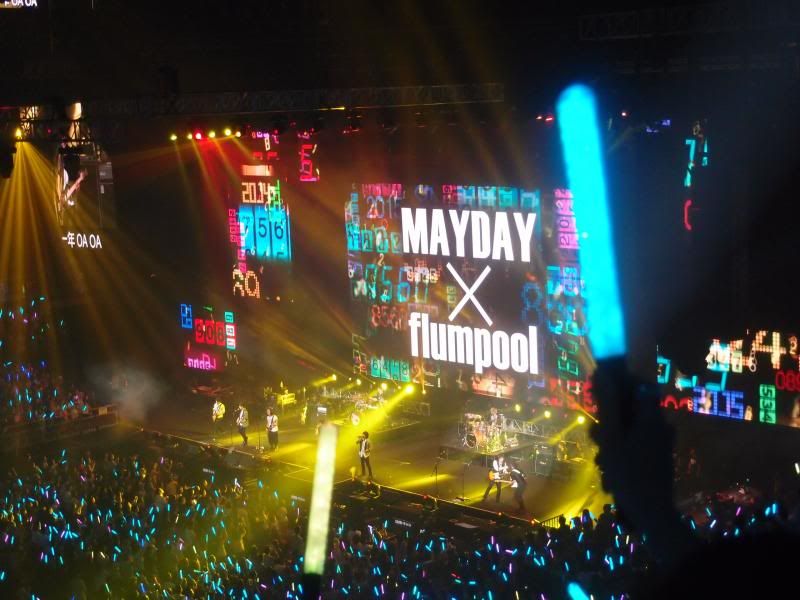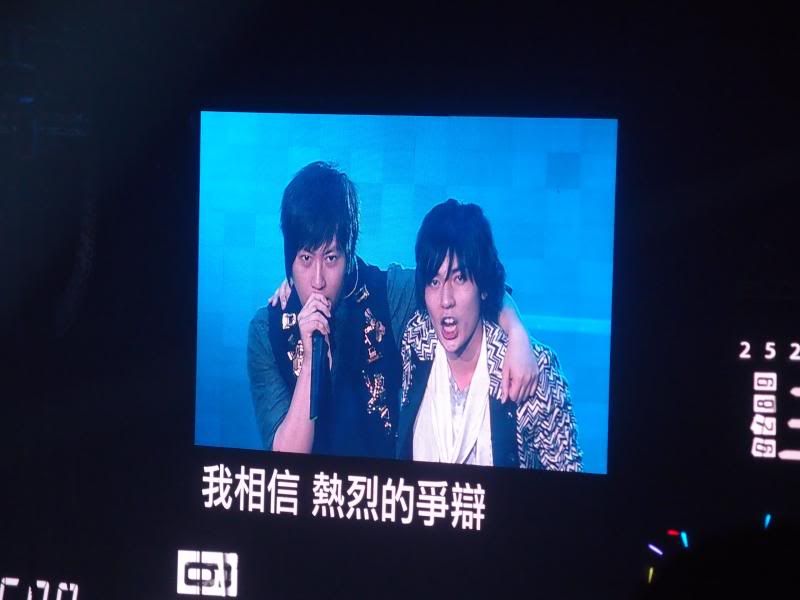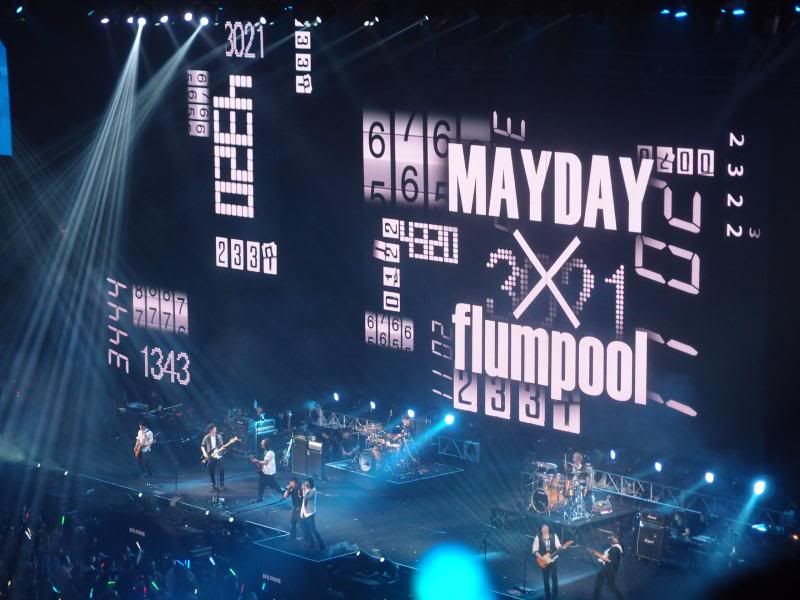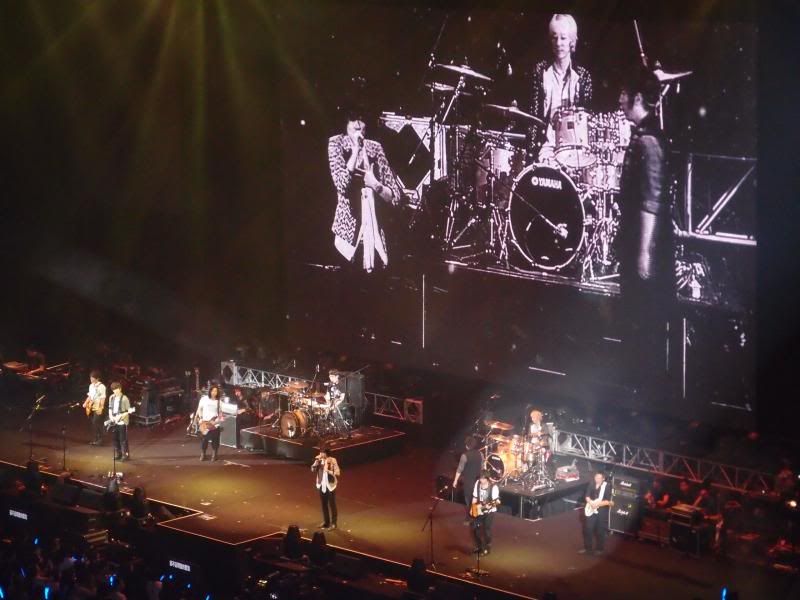 The first encore ended after 倔強 with most parts sang mainly by just us :')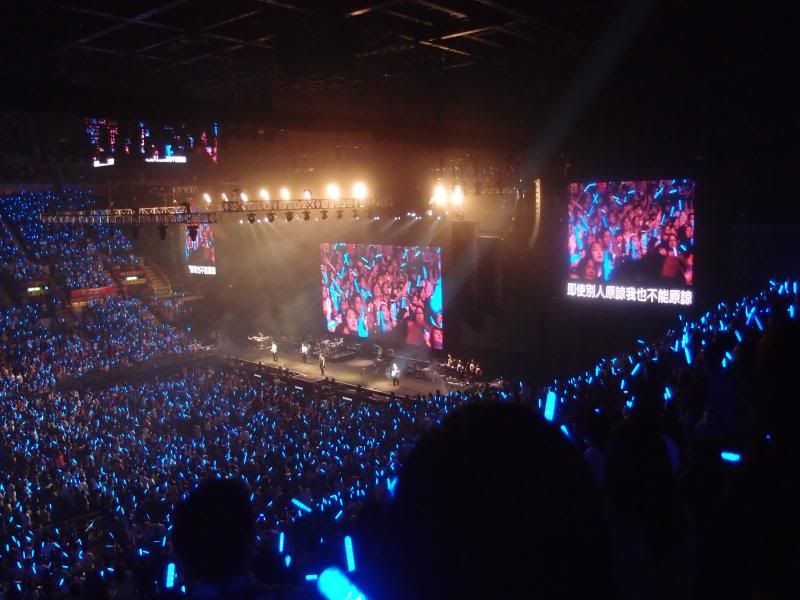 I can relate to this song a lot for this trip to Hong Kong for mayday. Fans are often judged when you made an overseas trip specially for your favourite artist. You are labeled as crazy fan who literally chase your idols to where ever they go. But as the first line of this song goes, 当我和世界不一样 那就让我不一样 if I'm different from the world, just let me be different. And the line 最美的愿望一定最疯狂 the most beautiful wish is definitely the craziest. True that me going Hong Kong for Mayday is a crazy idea but it is a wish of mine to attend a concert overseas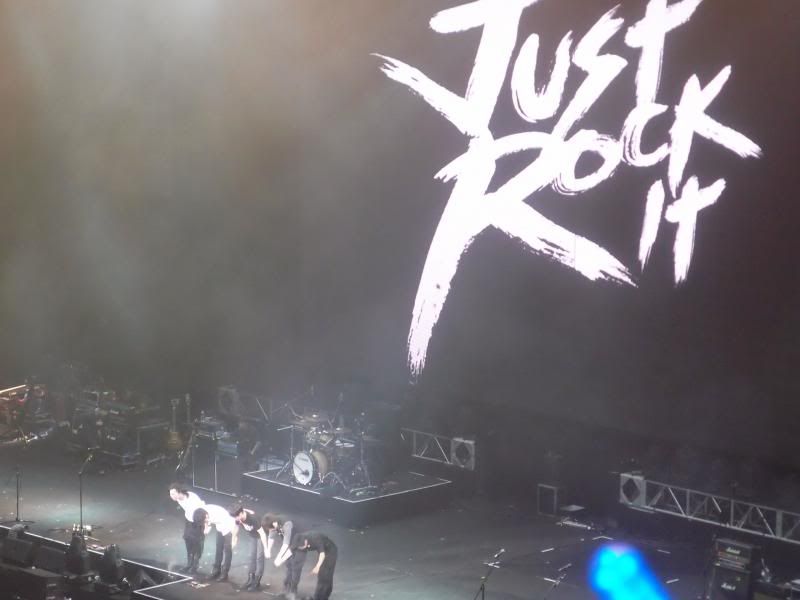 Anyway the first part of encore ended and we all promptly shouted for encore in unison.
GUESS WHAT IS THE SONG FOR THE SECOND ENCORE?!
DO YOU EVER SHINE!!
Another surprise! I thought I would never hear this song at all in my life unless I go to summer sonic in Japan this Aug! (in which I can actually go because I'm already in Japan by then but it's not worth it for me as I only know mayday from that day's line up D:)
I felt that Ashin's Japanese improved although I couldn't catch what he was singing when the PV came out on youtube but this time it was clearer! I was the only one around my area singing or more like shouting the lyrics in Japanese though XD
It was the second time for me to hear 洋蔥 for encore and I'm actually not a big fan of the song though. But it seems that it was an impromptu song for encore because Mayday had to discuss it on stage before it? The second encore finally ended with 乾杯 to my realization that I forgot to buy yakult to share with the girls beside me. There was one girl attending alone on my right side and one alone on my friend's left side too
and with that I'm gonna end this long post. It was an awesome night and the surprise really threw me off till I can't recall what happened through out the whole concert. I love the set list this time since there's a lot more old classics than their tour concerts. I also realised the set list this time consisted a lot of songs with all the "la la la" parts, I'm loving it! I've always loved the audience singing together as one :)
Thankful for Jueying attending with me or else I will be going alone. My mum for traveling or else I will have a lot of communication problems in Hong Kong. Simone for helping me buy air tickets from Cathay because they had an offer for maybank cards.
:')
Thank you Hong Kong, B'in music, Mayday, and unexpectedly flumpool. I'll see you again in September and August respectively!